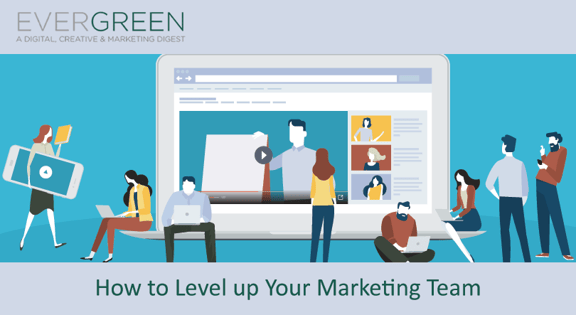 Welcome to EVERGREEN on The WunderBlog, our bimonthly creative industry update. We collected our favorite articles from the WunderBlog and around the web to help you stay up to date on the latest creative, digital, and marketing trends. Enjoy this week's issue: How to Level Up Your Marketing Team.
Not subscribed to receive our EVERGREEN digest? Click here to have EVERGREEN delivered directly to your inbox.
How to Level Up Your Marketing Team
Staying competitive comes down to many factors, but one that's often overlooked, in my opinion, is the ongoing need to level up your marketing team. You may have hired the right workers for the job, but marketing is evolving too quickly for you to assume that those workers are still equipped to produce the results you want.
Marketing and Virtual Reality: 5 Exciting Trends
As marketers, we know we must remain agile to be relevant. We must adapt our mindsets, skillsets, and strategies to the emerging trends driving consumer behavior and digital marketing. Today, that driver is virtual reality.
20 Books Every Marketer Should Read in 2018
We've selected some of our favorite new marketing books and compiled them below. Not only that, but we also reached out to the authors of each to find out which works had the biggest impact on their careers, and shared their responses.
Improve Your Location Marketing Game With Customer Reviews
Recently, industry analyst Brian Solis wrote a column that speaks volumes about the importance of customer reviews in a business's location marketing strategy.
Hiring Process Check Up
People are the building blocks of a successful company. A thriving organization and a healthy bottom line require a team aligned to delivering for your clients. No matter what field you're in, getting the right talent in place is essential. But is the process you use to do that helping or hurting your efforts?
Click here to subscribe to EVERGREEN!