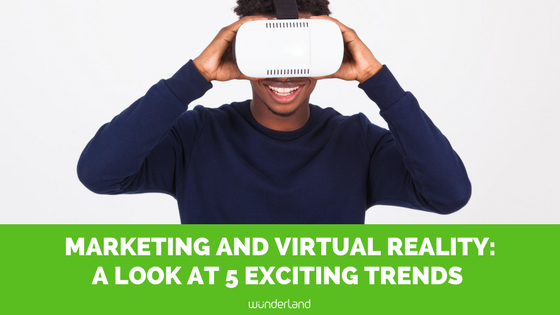 You may think of VR as something left to tech firms, but the truth is it's entering consumers' daily lives faster than you'd think. With this growth, it means virtual reality (VR) and augmented reality (AR) are rapidly becoming part of the operating reality for marketers in almost every industry.
As marketers, we know we must remain agile to be relevant. We must adapt our mindsets, skillsets, and strategies to the emerging trends driving consumer behavior and digital marketing. Today, that driver is virtual reality.

As noted at Recode.net, "worldwide revenues for the augmented reality and virtual reality market are projected to approach $14 billion in 2017, according to IDC, the market research firm. But that's forecasted to explode to $143 billion by 2020." For something that had virtually (no pun intended) zero market share in terms of job growth just a year ago, the market is now booming with potential. A recent article posted to Fortune.com notes, "demand for online freelancers with VR expertise grew far faster than for people with any other skill last quarter. Billings on VR projects grew more than 30-fold from the same period a year earlier, according to U.S. data provided by Upwork Inc.'s website that connects freelancers with employers."
One of the best ways to stay sharp and agile is to stay observant and study the thought leaders. We did the heavy lifting for you and identified four emerging trends in VR that are worthwhile to pay attention to. We also picked out the top roles/skillsets in VR per industry. For marketers looking to stay relevant and explore opportunities in VR, pay attention to these trends.
Are you a VR Enthusiast too? Click here to see hilights from our last Meetup event, "Virtual Reality: Design, Development & Deployment."
But first, What exactly is Virtual Reality and how does it differ from Augmented Reality?
Virtual Reality, or VR, is all about the creation of a virtual world you can interact with. In the past, VR was used to clunkily illustrate new environments, but now is growing in easy consumer access. You might experience VR with a pair of Oculus Rift goggles, or with a Google Cardboard insert with your smartphone.
Augmented Reality refers to the blending of virtual reality and real life. One great example from the recent past is the wild success of Pokemon Go in 2016, where virtual critters were imposed on your phone camera's view of your surroundings. (In case you missed it, here's a lengthy How To Play video.] While AR hasn't made as much of a splash as VR lately, there's still a definite place for it, as you'll see.
Trend #1. Gaming and VR
A match made in heaven: Gaming and VR…where it started, but not where it'll end. Children of the '80s might remember a little gem of an arcade game (and movie franchise) called Tron. In it, you got to "compete" as a virtual player inside a video game. It cost several precious quarters to play, and was pretty cutting edge at the time. Fast forward to the '90s, and the emergence of first-person shooter (FPS) video games like Doom, which you could play on your doom room computer that made you feel like you were really a part of the action.
Now, there's lots more that VR is bringing to the common gamer's basement. With the ever-increasing rise of technology at affordable prices, there are dozens of high-quality VR experiences that we all can experience. TechRadar recently named its Top 25 VR games for not only PCs, but consoles and mobile devices, too. And prices keep on dropping. The PlayStation VR has bundles that range from $399-$450, and HTC dropped the price of its Vive headset by $200, coming in now at $399 for a limited time. In March, Oculus cut the price of its Rift headset and Touch motion camera by $100, to compete perhaps with the prohibitive setup costs that come with the robust technology of VR. And while everyone who had a smartphone could play Pokemon Go in 2016, if you need to add a headset to your phone accessories to get into VR games, we'd better get a few more on the market that can handle the technology. If the real barrier to VR adoption by regular consumers is price, its main manufacturers are certainly racing to underbid each other.
There is an ever-growing market not only for VR hardware, but for the marketing know-how to sell it to that common man, too. Every holiday season there's a mad dash for the "next thing" in gaming consoles, computers, phones, and more…but how does VR play into the hardware that's the "best new thing" in upgrades? Companies like Facebook (which now owns Oculus), HTC, Sony PlayStation, Google, Microsoft, and more have been leaping into the VR market over the last few years, and having a great story to tell the consumers (and their tech-weary parents) is needed even more at this point. Not only B2C marketing is necessary, but B2B marketing as well, to convince hardware and software developers as well as major brands, to make the leap to as yet a much-hyped, but unproven new medium.
Trend #2. Consumer-Generated VR
As mentioned, Facebook purchased Oculus Rift in 2014 for $2 Billion, creating a potential social brand /VR merger of mega proportions. What has FB been doing in all that time? Developing a market, that's what, albeit slowly. The Verge writer Ali Robertson, noted at Oculus' recent Connect developers conference that she "talked to over a dozen people creating VR interactive experiences who were still bullish on their chosen field, but who acknowledged that it would take years, and possibly another generation of hardware, for it to approach mass adoption. They cited a combination of cost, inconvenience, and a shortage of good content on all platforms." The solution might just be the social aspect of VR.
With Facebook's acquisition of Oculus, Mark Zuckerberg has said he wants to bring 1 billion people into the VR space. Facebook's VR development (called Spaces) executive, Rachel Franklin, told The Verge that VR is about connecting with others, via the social sphere, but in a way that feels more "special."
"Eventually we'll open up the platform and let people develop all kinds of stuff. But right now it's about enhancing relationships," Franklin said. In talking about Facebook's recent virtual tour of hurricane-damaged areas of Puerto Rico, which came under a lot of scrutiny in the press, she offered their intentions on the effort. "Our goal was to show how VR can raise awareness and help us see what's happening in different parts of the world…After reading some of the comments and hearing from the community, we realize our intention to demonstrate empathy from within VR didn't come across, and we're sorry to anyone this offended."
Discussions and trials and errors like this one show that when companies like Facebook are willing to take bigger risks with new communication tools, and then take a step back and learn from it, we can not only use the experiences to learn new ways to communicate, but also new ways to market that effort to better educate the public. Showing friends 360 degree photos on Facebook lets them better experience your vacation to Maui, true, but let's say you're somewhere that needs an ambulance or police? Or you want to show how someone experiences a dangerous intersection or busy street near a school? There are ways that VR helps bring empathy to our world, in ways that we're only just considering. In that way, VR can be a great tool to not only marketers, but also those in Public Relations, Government, Social Services, and more!
Search jobs in VR, click here!
Trend #3. VR Car Showrooms
In a sphere we might not have initially anticipated, car-buying has potential for the next big B2C VR showplace. With a VR headset over your eyes, you can literally (figuratively) put yourself in the driver's seat of a luxury car, without any vehicle around. As one Washington Post writer, Joel Feder, discovered last summer, car manufacturers are bringing the car-buying experience to not only every dealership's waiting room, but to every buyer's living room. Consumers want to shop on their time, and definitely hate spending an entire weekend at the dealership test driving cars, only to find that one immediately "doesn't fit" when they finally sit inside, or another feels too big once they get behind the wheel. And it's not just one manufacturer getting into VR. Cadillac, Audi, Toyota, Volvo, and Mercedes-Benz are all
In this ways, marketing gets to consumers in a way that's extremely personal. Not only is UX involved to create an innovative new driving experience, but the VR experience to explore that car also has to be carefully crafted. Do consumers want to try out the car in normal driving scenarios, or see how it handles in snow? Do you want to offer experiences when the whole soccer team is buckled into the rear seats, or when you're contemplating your morning coffee stuck in traffic? What other potential selling points are unique to the VR world, and how can you push that envelope? Having a great UX team behind your VR technology can make the difference between a dud of a fad, and one whopper of a game-changer.
Trend #4. VR Travel and Real Estate
We've all dreamed of a 60-second getaway at our desks, but now we don't just have to imagine those amazing spaces and crystal white beaches…we can experience them more richly in VR. Virtual Reality is already used with selling luxury properties where interested buyers might be halfway around the world (or stuck in an 80-hour work week down the block). Not only are real estate companies using plain old photos to move properties, they're using VR and AR to help interested buyers truly experience the potential of a space. Whether you're touring an open house in the neighborhood or walking through a million-dollar warehouse space with "loads of potential," making the space connect with the buyer is key. Try a 3D walkthrough at a home in Portland, Oregon made with the software Matterport, and see what a difference it makes. Programs like RoOomy and Virtual Xperience let you decorate homes, or imagine your own style on properties that are still under construction. What a way to connect with customers!
When you want to market a vacation property, sometimes photos also won't do it justice. With VR, you can create experiences that anyone booking their next vacation can tap into from their computer (say, in cold and blustery Chicago or New York) to get them to come to your island property in the Caribbean. When you can experience the property virtually, complete with moving images of the "nearby" waves or "luxurious garden," and know you're not getting taken for a ride, then it's going to be easier to trust the seller and close the deal.
What marketers have to learn with this space is how to make reality match the art of language. It's been a long-standing practice of real estate agents to use their special "code" for maybe not-so-desirable traits in properties they're trying to sell. A small apartment becomes "cozy" and a basement studio becomes a "garden apartment," each of which sounds much more inviting than the reality might show. When you let someone in with virtual reality, they get to see that there aren't any windows and the door opens onto a dark alley. Writers are going to have to figure out new ways to find poetry in the not-so sublime.
Trend #5. Virtual health and happiness
Healthcare has always been a hot market, but now with virtual reality entering the sphere, it's has the potential to really take off outside of the doctor's office or hospital. Besides just virtual medical simulations, which can aid in education for medical students, VR has very real applications in the mental health and elder care realms as well. Students can explore the layers of the human body through VR video, or they can learn about diagnosing illnesses without leaving the classroom.
But young people aren't the only ones who can benefit from new virtual experiences, the growing elder population is also a perfect candidate for VR. In February, a VR platform called Rendever won a prestigious MIT innovations prize for designing a potential game-changer in elder care. With limited mobility, VR offers elderly users a chance to exercise their brains with new experiences, leading to a lessening of feelings of depression and isolation. Studies are being conducted to see if VR has a bigger role to play in the treatment of mental health disorders, with cognitive behavioral therapy and exposure therapy ideal realms of exploration.
While VR can be used to reach out and (figuratively) touch someone, it can have real effects on those we love and care for. Marketers in the healthcare sphere can use VR to help medical companies teach new techniques to doctors without costly symposiums or group trainings. With the Baby Boomer generation hurtling towards retirement, the need for top-quality eldercare is only going to grow, leading to a huge market for innovations like Rendever that can keep us all healthy as we age.
So what real benefits can you see in VR? How big is your imagination? Where do you see VR and AR going in the future? Let us know in the comments!
Is a VR career in your future? Contact WunderLand Group to find creative, digital, and marketing opportunities available in VR today.