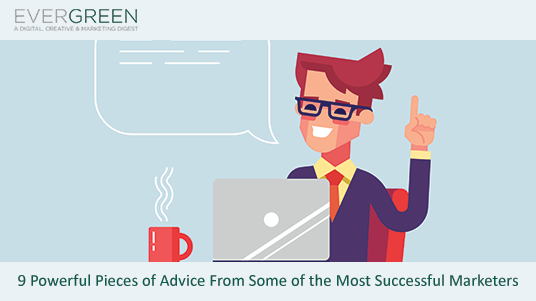 Welcome to EVERGREEN on The WunderBlog, our bimonthly creative industry update. We collected our favorite articles from the WunderBlog and around the web to help you stay up to date on the latest creative, digital, and marketing trends. Enjoy this week's issue: Why is Digital Marketing the Next Big Career Opportunity?
Not subscribed to receive our EVERGREEN digest? Click here to have EVERGREEN delivered directly to your inbox.
9 Powerful Pieces Of Advice From Some Of The Most Successful Marketers
To help you succeed in your own career, The Muse assembled a "best of" list of their favorite marketing wisdom from past interviews. Think of it as a "That's What I Call Music," except for marketing thought leadership.
7 Professional Marketing Conferences You Should Attend (Even If You're Just Starting Out)
You really shouldn't discount the benefits of a good conference to advance your career, even if you're a marketing newbie. Where should you go for your next (or first!) conference?
Why Your Social Media Audience Is Critical For Content Marketing
How do you get your content shared and then reshared? Columnist Mark Traphagen discusses how to cultivate an audience that will help your content spread like wildfire.
Ways Your Résumé Could Backfire On You As A Designer
How do you know if your whimsical, paper-free invitation for hire has gone overboard? Nicola Rushton, a product designer at Pivotal Labs, shares that she holds designers' résumés on higher regard than those of non-creative positions.
Marketing Metrics That Matter (Infographic)
Marketers are constantly on the search for useful metrics. While knowing baseline metrics is always a good thing, deciding which of those metrics are valuable-which ones turn into leads-can be confusing.
Click here to subscribe to EVERGREEN!