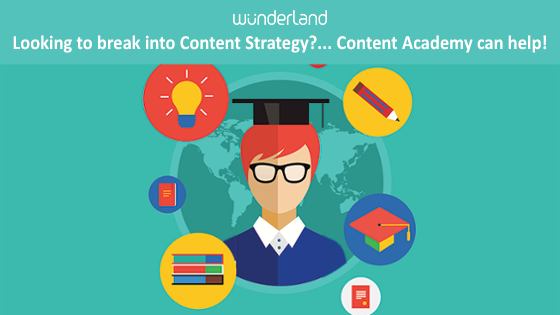 I'm always eager to learn about ways professionals and students can continue their education and keep their skills sharp—without incurring debt! WunderLand recently hosted a Lunch and Learn here at our offices with Rebecca Steurer, co-founder of Content Academy. Her mission is to build a sense of community for Content Strategists. She and her business partner, Scott Winterroth, have established a place where folks looking to either transition their careers into Content Strategy or students wishing to improve their marketability can meet and grow their skills.
Content Academy offers a wide variety of content strategy curriculum and learning events called Seminars and Study Hall. Their unique framework is based upon building a sense of community. Harkening to a traditional collegiate set-up, Content Academy has regular office hours offering a great (and unique) opportunity to share ideas and check-in on strategies. Students "graduate" from their programs with real-life, bona fide experiences that translate into tangible portfolio case studies. These real-world examples can help set the stage for future job offers (or promotions).
Participants have many options to choose from in courses that range from blog writing, content strategy and marketing, to SEO, social media strategy, and WordPress. In addition to offering these onsite courses, Content Academy is building capability to provide virtual options. They also host two Meetups as well. One Meetup community focuses on content and copywriting while the other focuses on WordPress blogging. Working alone can be isolating. Growing one's skills can be intimidating. Check out this great, modern approach to academia to help bridge these gaps—without debt!