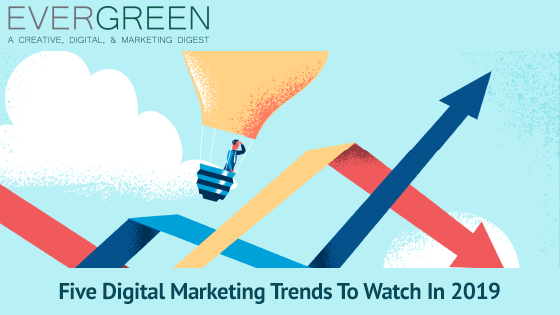 Welcome to EVERGREEN on The WunderBlog, our bimonthly creative industry update. We collected our favorite articles from the WunderBlog and around the web to help you stay up to date on the latest creative, digital, and marketing trends. Enjoy this week's issue: Five Digital Marketing Trends To Watch In 2019.
Not subscribed to receive our EVERGREEN digest? Click here to have EVERGREEN delivered directly to your inbox.
Five Digital Marketing Trends To Watch In 2019
The main goal of digital marketing has always been getting and keeping your audience's attention. Here are five innovative ways you can tell a great story and provide helpful, authentic content.
4 Points to Compile an Effective Digital Marketing Strategy
Before you put together a digital marketing strategy, you need to figure out an appropriate budget, SEO plan, and a specific target audience in order to launch a successful campaign.
Content Marketing: Beginners Guide for Maximum Success
Great content marketing bridges the gap between your products and your target audience. Learn how to create the right content for the right people.
7 Digital Marketing Careers for 2019
Everywhere we look, we see our world becoming more digital. Here's a list of the hottest digital marketing jobs that you'll want to seek out in 2019.
How AI is Changing the Way We Communicate
From chatbots to rideshares, AI's influence is inescapable. Learn how to augment human communication, not eliminate it.
Click here to subscribe to EVERGREEN!