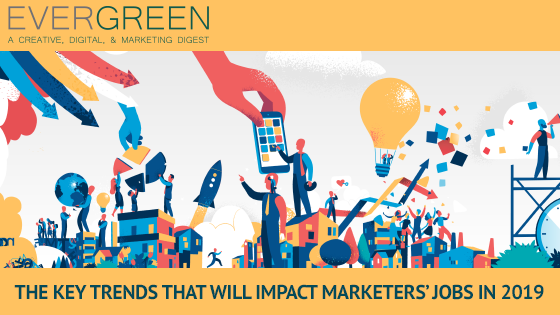 Welcome to EVERGREEN on The WunderBlog, our bimonthly creative industry update. We collected our favorite articles from the WunderBlog and around the web to help you stay up to date on the latest creative, digital, and marketing trends. Enjoy this week's issue: The Key Trends That Will Impact Marketers' Jobs in 2019.
Not subscribed to receive our EVERGREEN digest? Click here to have EVERGREEN delivered directly to your inbox.
The Key Trends That Will Impact Marketers' Jobs in 2019
Check out the key issues and challenges that will reshape marketers' working world in the year ahead. One thing you can bet on is that innovation will become faster and more flexible.
To Survive a Digital Future, Guide Employees to Own Their Learning
Continuous learning is paramount in today's workforce. Going into 2019, employees need to retake ownership of learning to advance (or even retain) their careers — and employers have to enable them.
5 Signs Your Employer Brand Is in Trouble
For every six employees, there is one who will try to tear your brand apart. So, ask yourself the question, "What is my employer brand, and is it enhancing or detracting from our success?"
How Franchisors And Franchisees Can Work Together For Digital Marketing Success
Cooperation between franchisors and franchisees is critical to success. Here's a list of digital tactics that each side can focus on to build a relationship that benefits all.
5 Digital Marketing Myths Debunked
As the digital landscape continues to change, digital marketing practices face constant evolution. Those who are able to keep up will surely be a valuable asset to their teams.
Click here to subscribe to EVERGREEN!