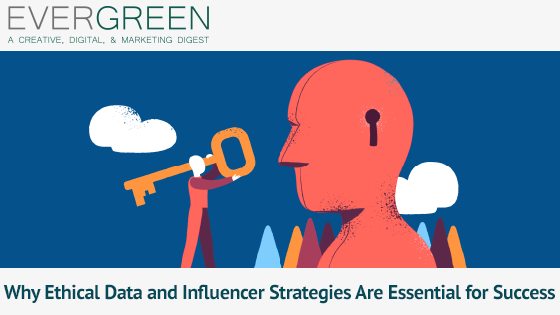 Welcome to EVERGREEN on The WunderBlog, our bimonthly creative industry update. We collected our favorite articles from the WunderBlog and around the web to help you stay up to date on the latest creative, digital, and marketing trends. Enjoy this week's issue: Why Ethical Data and Influencer Strategies Are Essential for Success.
Not subscribed to receive our EVERGREEN digest? Click here to have EVERGREEN delivered directly to your inbox.
Why Ethical Data and Influencer Strategies Are Essential for Success
Influencer marketing works because people trust who they trust. Learn how digital marketers can gain the trust of their audience through genuine engagement.
5 Top Social Media ROI Best Practices for Successful Campaigns
Having an effective social media stategy starts with great content, effective targeting, and engaging the audience. We analyze five campaigns that adopted social media ROI best practices to optimize their ROI.
How To Overcome The Challenges of Data-Driven Digital Marketing
Marketers face big challenges when it comes to data. Learn how to leverage your data to create a concise customer journey and increase conversions.
29 Reasons Digital Marketing Belongs in Your Public Relations Strategy
Digital marketing is an important part of every business' public relations strategy. Learn how social media has a 100% higher lead-to-close rate than outbound marketing.
How Can AI Deepen Customer Relationships and Drive Business Outcomes?
AI technology has become essential in executing marketing strategies. Learn how AI can be helpful in deepening organizational relationships with customers.
Click here to subscribe to EVERGREEN!