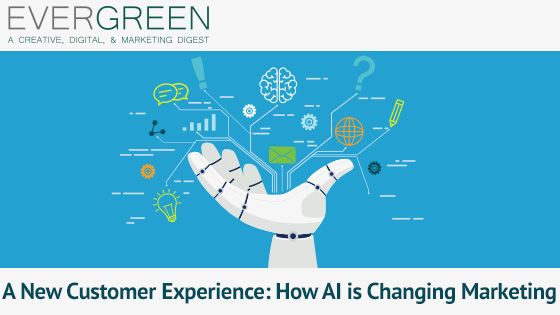 Welcome to EVERGREEN on The WunderBlog, our bimonthly creative industry update. We collected our favorite articles from the WunderBlog and around the web to help you stay up to date on the latest creative, digital, and marketing trends. Enjoy this week's issue: A New Customer Experience - How AI is Changing Marketing.
Not subscribed to receive our EVERGREEN digest? Click here to have EVERGREEN delivered directly to your inbox.
A New Customer Experience: How AI is Changing Marketing
By helping marketers collect data, identify new customer segments and create a more unified marketing and analytics system, AI can scale customer personalization and precision in ways that didn't exist before.
6 Steps for Making Delicious Meals Out of Your Content Marketing Leftovers
You have no shortage of content ingredients on-hand... And with a dash of new content, a cup of creative planning, and a large dollop of strategy, you can repurpose "content leftovers" into deliciously satisfying meals for your audiences, all while reducing production time and boosting efficiency, and without sacrificing taste.
Brand Trust Matters… A Lot.
Two-thirds of adults in the US say that trust in a brand has a great deal (31%) or a lot (37%) of influence on their decision when making a big purchase, reports SurveyMonkey in recently-released research.
Do You Need to Learn to Code?
Yes, and you're going to love it. Other than becoming a career coder, here are three good reasons you might want to learn how to code along with suggestions on how to get started.
17 Remarkably Brilliant Quotes to Get You Out of a Creative Rut
If you are experiencing a creativity-block, these encouraging words will help you find your way back to creating beautiful things.
Click here to subscribe to EVERGREEN!