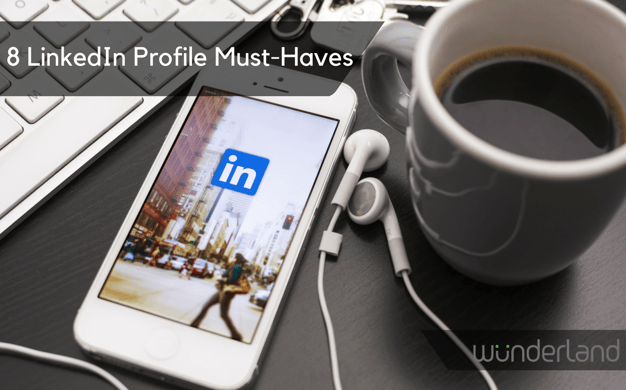 We all know that LinkedIn is an invaluable tool—there are currently over 128 million profiles and counting! Keeping your profile updated makes it easier to find your next job when the time comes—even if you're not currently engaged in a search. Here are eight tips to polish up your profile:
A Professional-Looking Photo. Your profile is 14 times more likely to be viewed simply by adding a profile photo. This picture should be one of you (and only you), in professional, or profession-appropriate, attire. These days you don't have to hire a photographer to take one; ask a friend to take one of you or take a selfie. LinkedIn offers some great tips on taking a professional selfie.


A Clear Headline. Skip the "Ace Problem-Solver" type of headlines and opt for one that clearly portrays which profession and industry you work in. Include keywords and recognizable titles to help recruiters and hiring managers find you.


Contact Information. Include your personal email address, social media handles, and if you have an online portfolio or a blog, be sure to include these as well.


A Descriptive Summary. You have 2,000 characters to use, which gives you plenty of room to let your personality shine through. Writing colloquially and in first-person will give readers a good idea of who you are. Keep your writing professional, though, by including what you're currently working on and your career goals. Infuse keywords into your profile by listing your skills, specialties, and certifications at the end of your summary. Finally, invite readers to connect with you.


Enhance Your Experience Section. While a resume is (or should be) tailored to the job to which you're applying, your LinkedIn Experience section is all-inclusive. Using bullet points, flesh it out with what job was and how you did it, any accomplishments and promotions you achieved, and the impact of your achievements.


Multimedia. Show examples of your work. LinkedIn lets you add documents, links, videos, slideshows, and photos in each of your experience sections so you can showcase the projects you worked on at each employer.


Skills and Endorsements. Fill this section out! Profiles that include endorsements are 13 times more likely to get viewed than those that do not have endorsements. People can endorse you for skills that you list, which helps you rank higher when recruiters and hiring managers are searching for that skill.


So, whether you're looking for a job or not, by including these eight must-haves, you will build your professional network and gain valuable connections.
For available jobs, please check here.
Visit our Talent Resources page weekly for new career insight and tips.