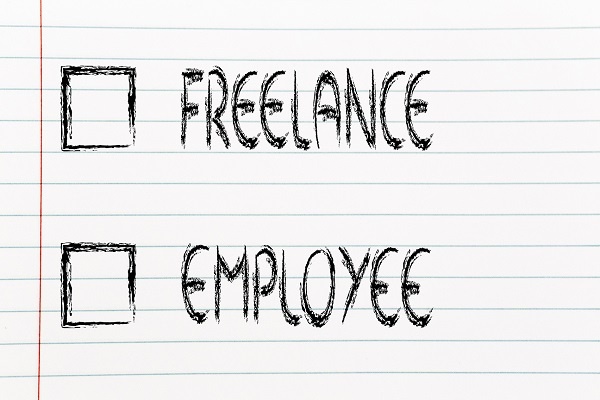 What's it Like Working as a Contractor Thru a Staffing Agency?
You've been without full-time employment for a few months now. You signed up with a staffing agency, had a few interviews, and today you got a phone call saying that their client, ABC Company, wants to hire you as a contract Web Designer for at least the next 12 months. Congratulations!
But who the heck am I working for?
You're being hired as a 'contract' employee and not a 'regular' employee. What does that mean to you?
Well, first it means that ABC Company is not hiring you; at least, not in the traditional sense of employment, where you work X hours per week and they pay you a regular paycheck with taxes withheld.
They still want your services, but they don't want to (or can't) put you on their payroll. Instead, you will become an employee of the staffing agency, but you will work at their client's offices, doing the work their client needs you to do.
The staffing agency will pay you weekly, withhold your taxes, and, if it's a good agency, you will be eligible for a benefits package including health insurance and 401K. So technically, and legally, you have been hired by the staffing firm, not by ABC Company.
So what's expected of a Contractor?
As a contractor assigned to work at ABC Company, you will take direction from them about the specific work they need you to do.
As an employee of the staffing agency, you're expected to let them know when you are too ill to go to work, need to take personal time off, or have a vacation planned. The agency won't tell you that you can or cannot take the time off; however, if their client can't spare you, it may come to a choice between the time off or continuing the assignment. So if you have any vacations scheduled, tell the staffing recruiter right away!
If you have any issues about the job duties assigned to you, first talk to your rep from the staffing agency. They will then address any issues you have with their client, ABC Company.
If while on assignment you are too ill to go in to work, first notify your staffing rep, then notify the person you report to at the company.
You are expected to give two weeks' notice to your employer (the staffing agency) if you are planning on quitting your contract job, just as you would any other job.
You should regularly keep in touch with your recruiter, checking in with him or her at least once every couple of weeks (for a long term assignment) or at the end of the first day (for a shorter assignment).
The staffing firm's client expects you to perform like one of their regular employees, i.e., show up at the scheduled time and adhere to their rules, dress code, and break schedule. Depending on your role, you may be asked to attend their internal meetings, keep track of the time you spend on a project, complete one of their time sheets, and use their computer and software. Sometimes they may ask that you bring your own laptop to work on.
The company may ask you to sign a Non-Disclosure Agreement, and you should NEVER use work you've done for them in your portfolio unless you get their permission first.
If your assignment ends and the staffing agency doesn't have a new job for you, you are eligible to collect unemployment insurance payments once you file a claim. However, to be eligible for unemployment, you must prove you are trying to get another job (or contract gig) by keeping in touch with your recruiter and letting him/her know you're ready and able to work another assignment.
Shouldn't my focus be on getting a new 'permanent' job?
Not necessarily. You're out of work, aren't you? A contract job (or freelance gig if that's what you prefer to call it) is still a job, but it usually has a set beginning and end date. Today, however, we're seeing a sharp increase in the number of employers who want to 'try' out a candidate before hiring them onto their payroll. There are a lot of these types of jobs out there, and obviously, you need to be currently unemployed in order to go after one of them. Check the job posting for terms like temp to perm or contract to hire.
Are you thinking that you won't have health insurance or other benefits if you work as a contractor? Well, if you sign up with the right staffing agency, they will offer benefits for their contractors, like we do here at WunderLand. We offer Blue Cross Blue Shield health insurance, dental and vision coverage, plus we have a 401K program with company match.
Contract jobs taken in your field are good to put on your resume. It's becoming quite normal for people to go through periods of employment with periods of self-employment (freelancing or contracting while unemployed), and these jobs do have value.
There are people in many industries, especially Design and Tech, who prefer to move from one contract job to another without settling down at one company. It's a great way to check out companies from the inside to see what it might really be like to work there.
Can't a temp job end suddenly?
Yes it can. Just like a permanent job can end suddenly with a firing or layoff. At any time an employer can decide they don't need or want your services anymore. If that happens, your staffing rep will try to help you land a new contract job or permanent job, and you can file for unemployment benefits just like you would if you were laid off a regular job.
So what's the downside to contracting?
None, really! You'll be adding more experience to your resume, meeting new people who may become valuable connections for your career, making good money, and have valuable benefits. Click here to see the jobs WunderLand is currently recruiting for.
______________________________________________________________________________
WunderLand is a team of Talent Acquisition Experts who connect companies in Chicago, San Francisco and Connecticut (servicing New York, New Jersey, Rhode Island and Boston) with in-demand digital, marketing and creative talent. The experience, insight and market knowledge we provide have earned us loyalty and a reputation for quality.
Need to hire?
Looking for a job?


For available jobs, please check here.
Visit our Talent Resources page weekly for new career insight and tips.