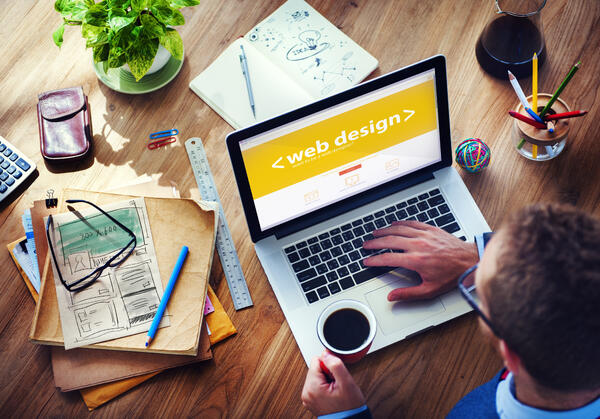 WHAT IS A WEB DESIGNER?
Behind every web page, there is a person responsible for the images, design and layout of what you see when you go online from your desktop or mobile device. That person is the web designer.
Web designers combine their creative and technical skills to produce a website that will successfully inform the user, send a message, act as entertainment, sell a product or service, or all of the above.
Using visual art fundamentals in conjunction with basic marketing principles, web designers can successfully create an online presentation according to their clients' requirements. This artistic yet tech-savvy group of individuals can create a simple website or page with just text and a few photos and graphics or go all out and incorporate videos, animation, ecommerce payment systems and advertisements.
WEB DESIGNER JOB MARKET AND SALARY
The future looks very bright for web designers. As the demand for interactive media and Internet advertising continues to soar, so does the demand for web designers. According to eMarketer, U.S. marketers are expected to spend $40 billion in 2014. The U.S. Department of Labor expects to see a 13 percent growth over a 10 year span ending 2018.
Industries searching for top-notch web designers include internet service providers, ecommerce firms like Amazon.com, and specialized web design companies or digital advertising agencies. Large corporations often have their own department of in-house web designers while others turn to ad agencies. You can always bypass organizations and be your own boss as an independent contractor, and you can sign up with staffing firms like WunderLand so you can hear about the latest contract needs of companies in your area.
When it comes to a web designer's salary, it varies depending on experience and the position. The average web designer can expect to take home around $60,000. Those at a senior level or in a management role can hit the six-figure mark.
WHAT'S NEXT?
Now that you know a little bit more about life as a web designer, is it the career for you? Here are seven tips to keep in mind.
Education. Some people are able to learn the necessary skills on their own. However, there is always an added benefit to getting a bachelor's degree in graphic design or visual communications. College degree or not, every web designer needs to have a solid understanding of things such as HTML, CSS, JavaScript and Adobe Photoshop.
Learn From Professionals. Research others' work, find tips to make your work better and ask for advice. There are probably free Meetup groups of web designers in your area, so check out www.meetup.com.
Practice, Practice, Practice. The only way you'll ever get better is to work on new projects. Even if you don't have clients, find things that inspire you and see where your imagination will take you. Visit as many web sites as you can, and redesign those in need just to keep your skills sharp.
Keep Your Tools Handy. Make sure you are well equipped with the right programs such as Photoshop and other application in the Adobe Creative Cloud. Other image editing software is available for free like GIMP. You will also need text editors if you code as well as design – the ability to do web coding plus design is highly desirable.
Build Your Portfolio. Your personal website is a good place to start. Offer to work on projects for friends and family, even if it is for free. Redesign sites you don't like and add these to your portfolio. There is no rule that portfolio pieces need to be paid projects.
Believe in Yourself. If being a web designer is what you are passionate about, don't give up. Every career has its highs and lows. Be persistent and follow your dream.
At the WunderLand Group, we specialize in placing qualified marketing, interactive and design candidates with companies in New York, Chicago and San Francisco. For more information, contact our staffing experts today.