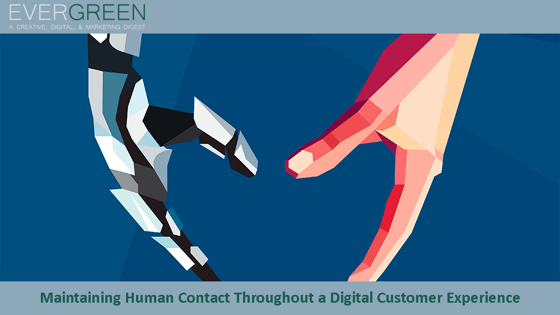 Welcome to EVERGREEN on The WunderBlog, our bimonthly creative industry update. We collected our favorite articles from the WunderBlog and around the web to help you stay up to date on the latest creative, digital, and marketing trends. Enjoy this week's issue: Maintaining Human Contact Throughout a Digital Customer Experience.
Not subscribed to receive our EVERGREEN digest? Click here to have EVERGREEN delivered directly to your inbox.
Maintaining Human Contact Throughout a Digital Customer Experience
We've all had that customer-service moment where we're stuck in an automated loop of chaos, and all we want is to connect with a real (and if it's not asking too much, empathetic) human being to answer our question. The problem with engaging a digital brand or startup is that, oftentimes, customers don't know who—or what—they are talking to.
In With The New! 8 Defining Characteristics of The Future of Work
If you've been paying attention, you know the "future of work" has already arrived. It's readily apparent in the way organizations are reinventing their workforce and making fundamental changes to traditional work practices. A workforce revolution is in the air and the spoils will go to those who embrace the cause today... especially in the creative and digital marketing space.
How Artificial Intelligence Is Raising The Bar On The Science Of Marketing
Artificial Intelligence (AI) has become part of the business landscape. It's now accepted as a technology for many applications and platforms. However, marketing is one of the areas where AI is transforming how the process works. As such, it's also solving some marketing challenges across industries.
10 Amazing Podcasts for Digital Artists
There are many tools available for the digital artist, from graphic tablets to the best software to a whole range of learning resources. However, one tool that is often overlooked is the podcast. While it may seem like an odd choice, podcasts are a great way for artists to get inspired, connect with other artists, and learn more about the visual and creative arts industries. But with so many to choose from, where do you start?
How to Network When You Hate Networking
"Networking opportunity" can be horrifying words. To some, the two words together mean "a chance to increase my circle of friends and colleagues," "a reason to break out the business cards," or even "an event where I'll make a connection that will lead to something great for my career." However, if you hate networking, you might see the two together and think: "something I should probably do, but I'm terrified and I REALLY don't want to." When networking comes around on your calendar, don't approach it with dread. Here are some easy ways to tackle a networking event.
Click here to subscribe to EVERGREEN!
Looking for top talent? CLICK HERE to subscribe to Talent on the Move.