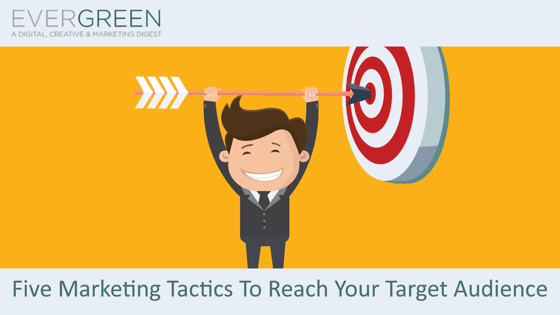 Welcome to EVERGREEN on The WunderBlog, our bimonthly creative industry update. We collected our favorite articles from the WunderBlog and around the web to help you stay up to date on the latest creative, digital, and marketing trends. Enjoy this week's issue: Five Marketing Tactics To Reach Your Target Audience.
Not subscribed to receive our EVERGREEN digest? Click here to have EVERGREEN delivered directly to your inbox.
Five Marketing Tactics To Reach Your Target Audience
Marketing doesn't work like a magic wand. Its main purpose is to match the value your business is creating with the right customers. There's no one-size-fits-all marketing strategy that will deliver you the results you're aiming for. A proper strategy focuses on really understanding your target audience, knowing what your customers ask for and determining the best channels to deliver it on.
7 Ways to Build Employee Engagement With Contract Talent
Every company and every team leader wants high employee engagement. What if a significant portion of your employee base is comprised of contingent talent? Does employee engagement still matter? We definitely think so.
13 types of videos that could power up your business
You've been thinking about investing in video content, but you're not sure where to start. Video is certainly worthy of investment, but it's important to consider the different pieces, platforms and productions that will play to your company's strengths.
You're Already Creating Interesting Content. Now Here's How to Get More Attention, More Traffic and Even More Business
As a professional, you know how important it is to be known as a thought leader. So you work hard to create a blog or online article, distribute an e-newsletter to your clients or create a podcast or video.
But, by sharing your content only once, you've missed a wide universe of people who would benefit from your thinking--including people who could become potential clients.
Ever Wonder Why Some Companies Use Staffing Firms Instead of Hiring Their Own Freelancers and Contractors
You've probably noticed that some companies post help wanted ads for contractors/freelancers/temporary workers (for my purposes in this discussion, we'll assume these mean the same thing). What you don't see is how many companies use STAFFING FIRMS when they need temporary help, even for senior level roles. But why do some companies use them while others don't?
Click here to subscribe to EVERGREEN!
Looking for top talent? CLICK HERE to subscribe to Talent on the Move.