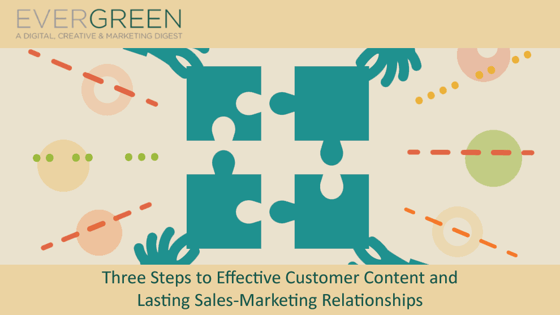 Welcome to EVERGREEN on The WunderBlog, our bimonthly creative industry update. We collected our favorite articles from the WunderBlog and around the web to help you stay up to date on the latest creative, digital, and marketing trends. Enjoy this week's issue: Three Steps to Effective Customer Content and Lasting Sales-Marketing Relationships.
Not subscribed to receive our EVERGREEN digest? Click here to have EVERGREEN delivered directly to your inbox.
Three Steps to Effective Customer Content and Lasting Sales-Marketing Relationships
Solving for overall synchronization between Marketing and Sales is not something that typically happens overnight—or over the course of a blog series or two. But there is a way to at least ensure that both teams are satisfied with the direction of the content strategy.
What Marketing Skill is In-Demand Right Now?
Right now clients are looking for anything to do with content. They need good, relevant content, and they need it all the time. Not just Facebook and Twitter updates, but a constant stream of creative, multimedia, original content.
Five Things Influencers Want Brands to Understand
If you want to know how someone feels, ask them. The unique nature of influencer marketing is such that influencers' enthusiasm (or lack thereof) can impact campaign results.
It's Time for Brands to Invest More in Mobile Advertising
This article will explore why brand advertisers should be thinking about how to do more in mobile, market forces that are aligning in favor of more brand advertising in mobile and what agencies and advertisers should be doing to help shape the mobile advertising ecosystem of the future.
Network Your Way to a Better Job
It's important to understand that networking your way to a better job is a two-way street. It's as much about you qualifying opportunities as you proving you're qualified for opportunities. How do you do that?
Click here to subscribe to EVERGREEN!