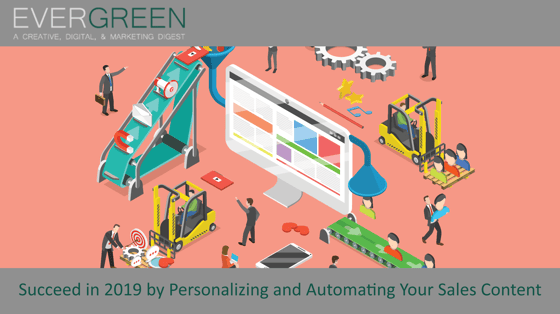 Welcome to EVERGREEN on The WunderBlog, our bimonthly creative industry update. We collected our favorite articles from the WunderBlog and around the web to help you stay up to date on the latest creative, digital, and marketing trends. Enjoy this week's issue: Succeed in 2019 by Personalizing and Automating Your Sales Content.
Not subscribed to receive our EVERGREEN digest? Click here to have EVERGREEN delivered directly to your inbox.
Succeed in 2019 by Personalizing and Automating Your Sales Content
The days start flying by in Q4, and that gnawing pit in your stomach reminds you that planning for the upcoming year needs to begin in earnest. Budgets have to be agreed upon, content calendars created, sales plans and quotas established, and tech stacks evaluated. Here are two steps that any organization can take to set up both its sales and its marketing teams for success in 2019.
3 Modern Marketer Takeaways from Inbound 18
More than 24,000 marketers attended HubSpot's INBOUND conference a couple of weeks ago in Boston. INBOUND is one of the biggest conferences in marketing and among this year's audience were members of WunderLand's own Advanced Group marketing team. We asked our marketing experts what their key takeaways were from this year's show.
The Advertising Industry Doesn't Need More Data - It Needs More Creativity
What made the advent of social and digital media marketing so special is that it removed the mystery. We did away with the unknown. Phew. I even went so far as to wonder aloud and obnoxiously why anyone would even buy a billboard ad, with no CTR data attached, to promote their product or brand. Because at the end of the day, it didn't answer the million-dollar (or more) question: what actually drove those sales?
17 New Statistics About Word of Mouth
Word of mouth—online and offline—impacts every business, organization, candidate, and cause. Word of mouth is, of course, the oldest form of recommendation and customer acquisition, and it may be more important than ever.
What Does It Mean to Be Hired as a Contractor
You're being hired as a 'contract' employee and not a 'regular' employee. What does that mean to you?
Click here to subscribe to EVERGREEN!