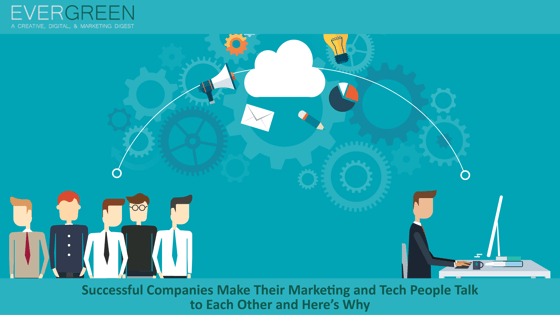 Welcome to EVERGREEN on The WunderBlog, our bimonthly creative industry update. We collected our favorite articles from the WunderBlog and around the web to help you stay up to date on the latest creative, digital, and marketing trends. Enjoy this week's issue: Successful Companies Make Their Marketing and Tech People Talk to Each Other and Here's Why.
Not subscribed to receive our EVERGREEN digest? Click here to have EVERGREEN delivered directly to your inbox.
Successful Companies Make Their Marketing and Tech People Talk to Each Other and Here's Why
Businesses that combine knowledge of data with creative thinking are likely to do better than their competitors, growing their revenues at 10 percent a year, twice the average rate of S&P 500 companies.
Important Questions to Ask When Choosing A Staffing Agency
Finding exceptional talent has never been more difficult or time consuming. Companies often partner with a staffing agency help alleviate these issues. In fact, staffing agencies are one of the top five external talent resources for U.S. companies and year over year, the industry continues to thrive and grow. This is due in part to the growth of the independent workforce and "gig" economy.
Here's How AI Will Pull Content Marketing Back From the Brink of Destruction
Almost everyone is doing content marketing. Yet, less than half of B2B marketers feel their efforts are performing better than "meh."
How Marketers Can Connect Profit and Purpose
It takes time for a big idea to make its way into business practice. Six years ago, Harvard's Michael Porter and FSG's Mark Kramer made the bold statement that shared value — the idea that the purpose of a company is to achieve both shareholder profit and social purpose — would "reinvent capitalism." They encouraged companies to go beyond CSR (corporate social responsibility) and integrate social impact into companies' competitive strategy.
Your Personal Elevator Pitch. How to Write One and Why You Need One.
At any point in your career, you can use the act of writing an elevator pitch as a kind of "personal career statement" that sums up A: what you do B: why your skills are valuable and C: where you're headed.
Click here to subscribe to EVERGREEN!
Looking for top talent? CLICK HERE to subscribe to Talent on the Move.