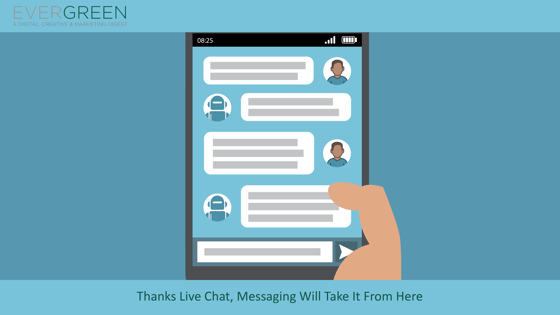 Welcome to EVERGREEN on The WunderBlog, our bimonthly creative industry update. We collected our favorite articles from the WunderBlog and around the web to help you stay up to date on the latest creative, digital, and marketing trends. Enjoy this week's issue: Why is Digital Marketing the Next Big Career Opportunity?
Not subscribed to receive our EVERGREEN digest? Click here to have EVERGREEN delivered directly to your inbox.
Thanks Live Chat, Messaging Will Take It From Here
Automation is a funny thing. Too little is the enemy of efficiency. Too much kills engagement.
Paid Time Off is Not Just Personal Time Off
Cook County recently passed a Paid Sick Leave Ordinance which is resulting in Human Resources headaches across the area. This new ordinance is creating a trend to offer employees two Paid Time Off categories, one for personal PTO and one for sick time.
Designers Aren't Prepared To Make AI–Here's How To Get Ready
AI can offer amazing user experiences when it's well designed–from more effective spam filters to digital assistants that understand the nuances of your voice. But according to interaction designer and Carnegie Mellon professor John Zimmerman, many UX designers are utterly unprepared to design this new wave of AI-centered interfaces.
Agencies Everywhere See Experiential Marketing as the Next Big Thing, and Brands Want In
Advertisers haven't had to look too far for negative news lately. But as broadcast spending dips and clients question the safety and effectiveness of digital buys, more and more agencies are turning toward a rare bright spot in the ad world: experiential marketing.
Career Crossroads: Should You Work At an Agency or In-House?
If you're exploring a career in marketing, there's one key decision you need to make: do you want to work for an agency or in-house? Based on your personality and priorities, the decision to go the agency or the in-house route, can have a big impact on your job satisfaction—potentially more than even your role or position.
Click here to subscribe to EVERGREEN!