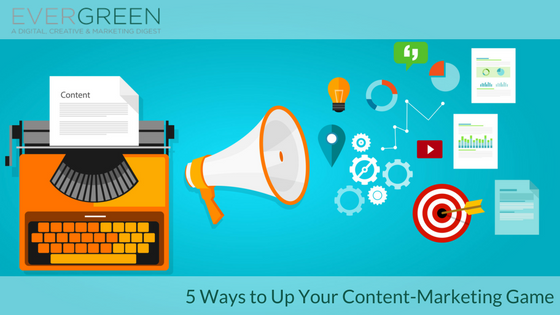 Welcome to EVERGREEN on The WunderBlog, our bimonthly creative industry update. We collected our favorite articles from the WunderBlog and around the web to help you stay up to date on the latest digital, creative, and marketing trends. Enjoy this week's issue: 5 Ways to Up Your Content Marketing Game.
Not subscribed to receive our EVERGREEN digest? Click here to have EVERGREEN delivered directly to your inbox.
5 Ways to Up Your Content-Marketing Game
In the modern business world, content marketing is an absolute must if you're serious about establishing connections, cementing relationships with customers, increasing sales, and growing your company.
Changes on the Digital Marketing Hiring Landscape
I graduated college with $45K of debt and one clear mission: FIND A JOB. That was (many) years ago and as we know, college and higher education costs only continue to rise. Ryan Deiss may very well have discovered a path to help people realize a successful career without the debt that can come along with it. He also may be providing hiring managers with tools to help qualify top digital marketing talent.
3 Mistakes You're Making When Marketing to Millennials
I've briefly touched on the topic of marketing to millennials in the past, but there is a lot more that needs to be said if people want us to start buying their services and products. Here are the three mistakes you're making when marketing to millennials and what to do about it.
Eight tips for building your personal brand in 2017
Today, building your personal brand is just as important as building your company's brand -- in fact, it might even be more important. Consumers want to hear the story behind the founders -- the failures, struggles and the success. This means putting yourself out there and marketing yourself in addition to your business.
4 Ways to Set Yourself Apart as a Marketer
Landing a marketing job and plugging away at it for a few years doesn't mean you can stop adding to your knowledge base. In fact, it's even more important to stay current on the latest tools of the trade, especially when you're looking to advance your career. Who knows? That "next big thing" could be an industry game-changer! If you don't keep up, you might find yourself lagging behind and missing opportunities. So, how do you keep upping your skills? It's a little thing called mid-career learning.
Click here to subscribe to EVERGREEN!