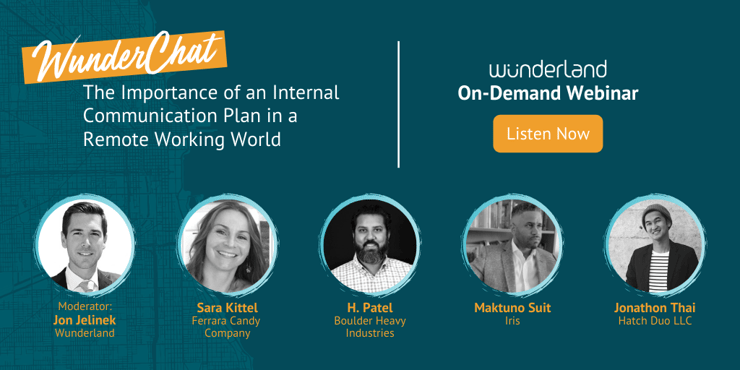 While organizations have philosophically contemplated work-from-home models for years, the events of 2020 made it a necessary reality overnight. With little to no planning for a remote environment, organizations scrambled to find ways to keep managers and employees engaged, productive and motivated.
Failure to rethink the way you communicate with your employees in this new environment is imperative. Organizations that will survive and thrive going forward are currently investing in comprehensive employee communication plans. They are creating an atmosphere of collaboration and continuous improvement designed to enhance corporate culture and drive business results.
Our recent WunderChat panel discussion on The Importance of an Internal Communication Plan in a Remote Working World highlighted:
Leveraging your culture's mission, vision and core values in your communications
How the employee experience is just as important (if not more) than the customer experience
How to handle communications around current events, including Covid-19 and the social unrest in our country

A well-crafted internal communication plan should not only keep employees informed, but also make them feel part of the bigger picture. We've compiled some tips below on how to build a proactive communication plan for your organization.
Employee Engagement
An internal communication plan's primary goal is employee engagement. So be sure to provide employees with an opportunity to share their opinions and ideas while building your plan. That way, you'll create employee buy-in and ensure that your plan is effective.
Inventory Review
A good place to begin the process is to review and inventory your organization's employee communications over the past 6 to 12 months. This inventory should include:
A brief overview of the communication's message or intent
Who issued the message
Who received the message (target audience)
Purpose of the message

Informational (Strategic goals, quarterly results, new products or distribution channels, etc.)
Educational (Employee development, training programs, new process or procedures, new systems)
Motivational (Success stories, reward and recognition)
Inspirational (Culture initiatives, vision, mission and core values)

Communication channel

Employee email
Newsletter
Internal social media platform
Intranet site
Group meeting or conference call
Employee survey

Timing (weekly, monthly, quarterly)
Once you've completed your communication inventory, use it as a starting point to build a consistent plan going forward. Identify gaps in subject matter, delivery channels, and timing in order to make improvements in your employee communications.
We can rise to the challenges that have come our way with the new work-from-home model. We can grow our companies by embracing the opportunity to improve employee engagement, which is now more important than ever.