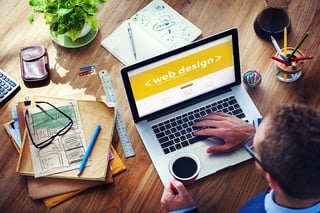 Design, whether it is print or digital, is about the customer experience. Users will experience communication no matter where they are, especially with the rise of mobile devices. Successful product marketing offers a 360 experience, an omni-channel campaign that involves messaging synergy. Because of the similarities in goals and purpose of product marketing, it's easier to transition from print to digital than one might think.
In most companies, print and digital designers sit on separate teams, so how does a traditional designer transition to digital? We recently hosted a panel discussion, in partnership with General Assembly Chicago, with some of Chicago's top digital design experts to help answer this question (video of presentation at the bottom of this page).
Our speakers included:
Moderator:
- Jen Evans Lemerand: Creative Director at cchange, inc., Chapter Director at SheSays Chicago
Panelists:
- Marina Karassellos: Digital Creative Director, ULTA Beauty
- Justin Siddons: Mobile Designer, Sprout Social
- Guss Tsatsakis: Creative Team Lead, kCura
- Jonathan Sarmiento: Associate Creative Director, closerlook


Industry Trends
Mobile is "it." In the past, designing was about "above the fold" and designing based upon screen sizes. With mobile technology, this is no longer the case. There is a huge gap in the industry where the challenge is to translate in-store experiences to a digital medium. Understanding how people use mobile devices is a fundamental requirement in order to be a successful designer.
Marina Karassellos, a leader in transforming the e-commerce design experience with Ulta Beauty, predicts that trying to be authentic, from an assets perspective, will become more and more challenging. Companies need to gear up to tackle these challenges.
Right now, a print designer who knows design software is a plus, but as Jonathan Sarmiento, a visionary digital leader at closerlook, sees it, this will become the norm and expectation, as digital and print become fully integrated.


Differences between Print and Digital
Digital is a living, breathing experience. It's always evolving. Once print is done, it's done. And, as Jonathan pointed out, another limitation of print is the composition of content.
In digital, data drives your design, noted Justin Siddons, an innovative mobile designer with Sprout Social. Tracking conversion and response metrics is more easily done with digital. Green and blue buttons make a difference: button color is driven by data on which color gets the most conversions.
In Print and Digital: Knowing Your Audience is Key
The panelists agreed – knowing your audience and understanding how they want to receive your message is key. Empathizing with your user will allow you to market to them effectively.
"All communications and strategy will go into effectively communicating to these audiences," noted Marina. "When targeting your personas, you need to be scrappy, resourceful and smart."
Think of effective ways to get the message out there, suggested Jonathan. How much content do you need to create? Always consider the user, which is the same in print. What are the main messages they're interested in?


How to Transition to Digital Design
Print is not dead, it's just really connected, which is why print designers can move easily into digital. Banner ads and site promotions are a good place to start. "You're just switching a few things around," said Marina. "Rather than talking inches, you're talking pixels."
Gaining Experience
Getting experience is about having an open mind and the hunger to learn new things. Justin made a point that traditional designers would be happy to hear: You don't need to have a previous job in digital to prove that you can do digital work. If you want to be a UX designer, do UX. Learn it. You will eventually get to the point where people can see that you understand design.
Marina added that first, understand what it is that you're looking for. Get curious and don't be afraid to get your hands dirty. Ask to work in a parallel to someone who does the work you want. If agencies give you access, take them. The best teachers are those around you.
But, don't get caught up in trying to learn everything. "You'll suffocate if you're trying to figure out all the things," said Marina.
Tools
It's okay to be self-taught. There are tools out there that were built for this reason. Justin suggested tools like Skillshare and Treehouse, as well as reading books on CSS, taking a class and reaching out on Twitter to teachers and designers whom you respect. People will help you and answer your questions.
Jen Evans Lemerand, Creative Director at cchange and our moderator for the evening, recommended creating an accountability club to give members the opportunity to make sure each one is learning the things they said they want to learn. Club members can critique each other's work to provide feedback.
With all of these resources available, you don't have to have a degree in digital design to get a job in digital.


Desired Soft Skills and Traits of a Digital Designer
Besides hand skills and knowledge of typography and hierarchy, interviewers will be looking at these soft skills:
Desire to learn new things.
Ability to understand the audience and how they want to interact.
Ability to understand the narrative and the story and present them in a tasteful way.
Being an engaged listener.
Good problem solver. You have to be interested in solving a problem and "making cool stuff," as Jonathan described.
The most important skill is critical thinking, a point made by all the panelists. Design can't just be a pretty picture; you need to be able to understand and explain the "why" of your design. Your concepting and ability to think past a single-page layout is critical to being a successful designer.
"But do I have to know how to code?"
Good news, traditional designers, you don't have to know how to code in order to transition successfully to digital design. Most companies have front end and back end developers to translate your idea. However, understanding the tools and the language that developers use and communicating on their level, will help you articulate how you want the design team to bring your idea to life, a point made by Marina.
Another benefit of understanding the developers' tools and language, noted by Jonathan, is that you'll keep these in mind when designing, eliminating the issue of the design not working technically.


Getting a Job as a Digital Designer

Your Portfolio
A stand-out portfolio, according to Guss Tsatsakis, Creative Team Lead with kCura, is one that illustrates your idea and process without you having to pitch it. If the interviewer can understand what you're trying to do without you giving an explanation, you've succeeded in creating an excellent portfolio.
Jonathan reiterated this point. The artifact is one part, but how did you get there? Showing the process and how you creatively thought about it is a crucial aspect of a portfolio. And, it's not about the number of pieces in the book; it's about demonstrating your ability. It's a systems level approach, an evidence of proof.
Your portfolio is more than just about your design work. Your ability to articulate and your spelling and grammar abilities are fundamental things that interviewers look at to understand your ability to translate your skills.
Look for other opportunities besides job applications to get your work out there. As Justin from Sprout Social pointed out, there are a lot of venues on the web that designers can use to get their name out there. Get on them. Create an online portfolio and put your link on social media, on your business card, your email signature, anywhere that you think will get your name noticed. Companies could approach you about a job opening.
Tip: Be sure to include original concepts and designs!

Your Resume
The resume is a good tool of basic constraints. It shows your handle on typography, hierarchy and managing content. It's a necessary and important tool when applying to jobs. Interviewers see it as a snapshot of where you've been and what you've done. They want to know your story because everyone has a different background.
Marina suggested keeping the format clean and simple. "I want to know about you, and then I'll look at your portfolio."
The Interview
It's okay to show the same work in your interview as you did when you applied. The interview is about cultural fit. The hiring manager is assessing how you communicate and if you would be an asset to the team.
Think about what the brief has asked you to do and stress the points that it asks you to design. Then, as Marina suggested, go over and above and ask the interviewer what he or she is most interested in hearing about the design.
Transitioning from traditional to digital design may not be smooth sailing, but there are many tools out there to make the transition easier. By reaching out to colleagues, designers you respect and learning some tools of the trade, you will set yourself up for success. The trick is to be open-minded and willing to learn; get your hands dirty.
Remember, noted Jonathan, you can't let design be the main thing. Not everyone appreciates the nuances. Design that can be invisible is the most successful.


Takeaways:
You don't have to know how to code
Articulation of process is key
Thought leadership and critical thinking skills are extremely important
Skills as print designer are very valuable as a digital designer
Consider updating your design skills in programs like those offered at General Assembly


Watch the presentation of "Making the Transition to Digital Design" below:


Are you looking for a new design job?
Do you need to hire designers?
Are you interested in speaking at future meetups?


Don't forget to join our CIDD meetup to hear about future events.
For more information on the classes General Assembly offers, head over to their website.