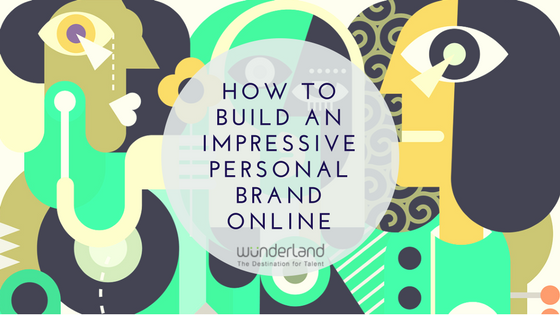 Building a brand isn't just a smart idea, it's critical if you want to get hired as a designer or copywriter these days. In the age when most of what we do stays online forever, and potential employers can find you in a matter of seconds via a quick Google, it's important to not only keep control of your professional image, but use what you can to boost yourself and your career.
When you're applying for jobs, the first place potential employers will go to get a look at your work and capabilities is a quick online search and browse of your portfolio. It's essential that you have a good, solid representation of your work accessible to recruiters and employers at all times (not just when they request it).
With often completely free, or at least inexpensive online resources it's easy to create and maintain a digital portfolio — even if you aren't technologically inclined. (No, really! No coding required.) Here's how to get in front of your personal brand online.
You Live Online Now…Own It
Even more important than keeping your social media presence as professional as possible (don't post inappropriate photos or tout unprofessional activities), is making sure you have a place to direct potential employers when they want to learn more about your abilities.
A personal brand isn't just something that comes with your online store where you sell handicrafts, it's about showing, with great examples, how you are a thought leader in your chosen profession. As Barry S. Saltzman points out at Fast Company, there's a direct line between success and branding. "Creating a strong brand establishes yourself as a natural leader, making people look up to you as a firm thought leader," Saltzman writes. "The boost in image and direction opens doors and creates unique opportunities that would otherwise remain in the dark. Similarly, finding success throughout your career naturally pushes yourself to take a stronger stance on how you handle yourself and others," he writes.
And you don't' want to leave those impressions up to chance. You have to get in front of what is being associated with your online profile, not just leave it up to whatever comes up first online. Have you ever Googled yourself? Potential employers will. If the best parts of your professional life aren't coming up as the first page of results, you have work to do. But don't worry, you can get your brand started in a bunch of different ways, and they won't involve complicated technical hurdles, either.
Get Your Portfolio Online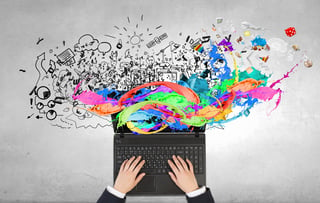 As designers or writers, you live in a distinctly easy space where you produce interesting marketing products that are easy to share. Don't leave your portfolio to chance, even if you currently link out to live websites, blogs, etc. The recent (though temporary) removal of all Gothamist family and DNAInfo websites and archives (and subsequent alarm by all those employees who lost those linked clip portfolios for a few days) should be warning to everyone who relies on outside hosting to showcase their talents. If work isn't restricted by a non-disclosure or privacy agreement, then you should have it prepared for online showcase on your own personal portfolio site.
Website template hosts like Squarespace.com or Virb.com are easy places to start with professional looking portfolio options that take just a few minutes to set up. They even offer customer service to help guide you, in the form of how-to videos and email/phone support. Plus, as it is a business expense, you can talk to your accountant about deducting some or all of the hosting fees come tax time.
Or, choose from any number of website templates online, as there are more nearly every day to peruse. A quick search came up with samples for designers, writers, illustrators and more at Carbonmade, eight design portfolios loved by Creative Bloq, 20 highlighted by Millo, and 15 by UK website Digital Arts Online. Found one on your own? Ask the owner how they designed the web page or what template they used. As long as your portfolio is 100% your own design/writing, it's fair to use a template to showcase your proficiency.
Build an Interesting Resume
No longer does a resume have to start and end with Word. You can build an interesting resume to highlight your design prowess or your ability to create beautiful written materials, and they don't have to come from your old college career center. Websites like Canva, Visual CV, or even professional resume template designers like Amy Dozer have lots of free or cheap template examples to offer.
What's good about an interesting resume? Well, standing out from the pack is key in today's job market. If you're keeping to outdated resume styles, you definitely won't seem like a thought leader in the design or writing field you've chosen. Lots of websites offer tips on what to ditch and what to keep on a modern resume, and they're not lying! Keeping an eye on keywords, avoiding outdated sections (bye bye "objective" section!), and using the limited space to your advantage to tell a great story about your history are all necessary these days.
Need tips on format? Read: Pretty vs Practical: Resume Tips for Designers the debate over pretty or practical resumes. There are reasons to go with both!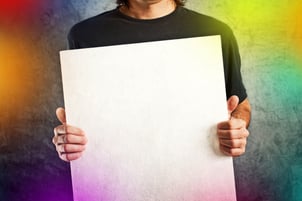 Corral That Content in One Place
Think about what motivates you, personally and professionally. You must have opinions on what makes a good product/pitch/brand campaign…so share them in a professional space, not just in your latest Twitter rant before you've had your morning coffee. Having a dedicated space to talk the business of your business is a great way to build and promote your personal brand.
There are easy ways to write about your professional opinions or personal insights to build your brand, and yes, they start with a blog. Blogs aren't dead, they're more valuable than ever in a world of social media. What a blog affords you is a dedicated space for you to control the message without the din of a million reactions/replies/asides/dog photos that live on your social media spaces. You can set up a blog easily on sites like Wordpress.com that can also give you an opportunity to customize the look and feel of the page with minimal fuss. It also adds a nice skill to your resume, even if you don't have to dig into Wordpress for work.
Have a lot of clips from online writing sources? Bring them all together at sites like Contently, or Clippings.me, that let you keep a running list in real time of all of your writing accomplishments…for free! See a full run down of prices and cool features of a variety of writing portfolio hosting options at Writers Edit.
If you're trying to capture pages from websites that showcase your work (and you really should since you never know when a site will change or go away), you can use a variety of programs to make pretty PDFs of your work. Besides using whatever print screen function is on your computer of choice, you can also have dedicated programs that can make grabs of full scrolling webpages. If you don't have a copy of Snagit (which costs around $50 to purchase) you can try other browser extensions that will clip pages for you (some include "Scrapbook" available in Firefox, or the aptly named "Full Page Screen Capture" in Chrome).
[Note: As will all third-party software, do your research before downloading or using them and beware of scams or phishing.]
Leave Them Wanting To Hire You
What personal branding comes down to is controlling the message. When a potential employer seeks out your work, you'll only have a few seconds (!!) to convince them that you're worth pursuing. You'll want to make sure that you can put your best foot forward online as much as you'd prepare for an in-person interview.
If you have any questions on any of the portfolio or resume tips discussed here, you can always reach out to WunderLand for more advice!
Looking for your next creative, digital, or marketing opportunity? WunderLand is the destination for talent. Search available jobs!