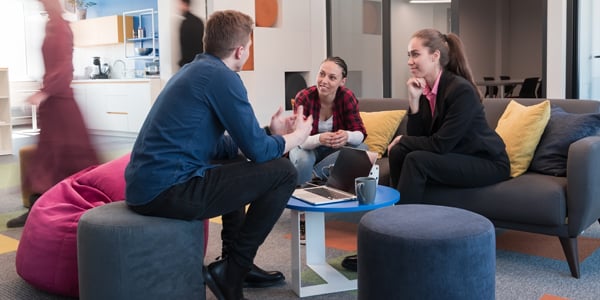 As a solutions provider with a specialty in recruitment for marketing, creative and digital professionals, we get a lot of questions around staffing 101. Mainly, we get asked how it works to work with an agency like ours. Is it free? What do you all do? What types of roles do you support?

We specialize in finding roles for our consultants, so you can focus on getting great work done. Here are some answers to our most commonly asked questions.
What does it mean to work with a Recruiter (TEM)?
Recruiters could be replaced with partner, coach, advocate, search engine. When you begin your job search, engaging a recruiter can be beneficial for a multitude of reasons. They are experts in the industry, so have a pulse on hiring trends, negotiations, and jobs. They have access to great opportunities through various clients.

Through their experience of working with various levels, fields and positions, they also have great insight into how experiences and skills compute. Recruiters work to help you find the right connection and opportunity – even if you don't know what that looks like.


What is contract work and how does it work?
Contract work is simple - short-term commitments with long term benefits. Contract work is signing onto specific jobs with various companies. Engagements can last for days, weeks, months or even years. You are still part of a team, but the flexibility allows you to try on various projects, teams and roles.

You can match projects based on skillsets or desired experiences, meaning you can build out your portfolio, try new things and aren't stuck in the same roles.


What is it like to work with a firm like yours?
it's free, easy and beneficial. To start, you meet with a team member. During this meeting, we listen. We discuss what you are looking for, what issues or misses you've had with employers or employees in the past and then we provide an action plan.

Once we align on a direction, WunderLand gets to work to make the right connections. We take matching companies and consultants with the right solutions. It's not a robotic process, but a thoughtful approach. We make sure skills line-up with job descriptions, culture fits are present and personalities don't clash.

And we don't stop once connections are made. We constantly check in to see how things are going. Based on feedback we can always adjust roles. As opportunities are ending, we then help you find your next opportunity and keep the cycle going.


Do I have to pay for your service?
Our service is completely free to our consultants!


Where do the opportunities come from?
The opportunities are sourced through the clients that we work with. Our clients come to us with a work issue. We then create custom recommendations to get the work done. Through these recommendations, our opportunities are born. We then work as a team to connect our consultants with our clients. We talk – often – to make sure our consultants and clients needs are met.


I'm looking for a new role. What's my first step? How does the process unfold from there?
If you're looking to work with a firm like ours, you have a couple of options.

Check out our open opportunities and apply for any that look like a good fit. We'll then follow up directly following your application.
If you don't find an opportunity for you, simply join our talent community. From here, we'll review your resume and one of our recruiters will reach out with next steps.
If you're a client looking to engage our services, you can use our general contact form.



What can I expect when I apply for a job?
If you apply via our portal, you'll be contacted by a recruiter. If you are working with a TEM and apply for a job through them, they will keep you posted with progress. WunderLand works to provide timely updates.


What should I prepare for my job search?
The first steps we recommend are gathering a portfolio to highlight your work, update your resume and meet with one of our recruiters!


Do you offer benefits / when / how am I eligible?
Did you know that if you work with WunderLand, you're actually a W-2 employee?

We offer medical and health benefits:
If you are a full-time employee working 30+ hours per week, you are eligible for the expansive health benefits that Advanced Group offers. You have 30 days from the start date of your first contract to elect or decline coverage in our benefit system. Coverage begins on the 1st of the month after you've worked for 30 days. Options are available for single and family coverage. Benefit changes can be made during the yearly open enrollment period, or at the time of a Qualifying Event.

We also offer 401(k):
You are automatically enrolled in the plan at 3% the 1st of the month after 90 days. WunderLand will contribute a match of 50% up to 8% of salary contributed after consultants have met eligibility.  Employees will be 100% vested in the plan following two years of service.

Once you are eligible, you will receive a welcome packet from Principal during the open enrollment period. It will contain information on the 401(k) plan, funds available and enrollment forms. If you do not wish to contribute, you must log into Principal and opt out of participation.

Other benefits include an engaged community of other consultants and clients, ongoing trainings through WunderLand and our parent company, Advanced Group, career and holiday rewards and so many more!


What types of clients do you work with?
We work in multiple industries across multiple areas of expertise in the digital, creative and marketing services. Our top industries include retail/e-tail, travel & hospitality, health & wellness, financial services/fin tech and professional services. 78% of our work is within UX Design, Visual Design Content, and Project Management.
Want to get started? Reach out today.