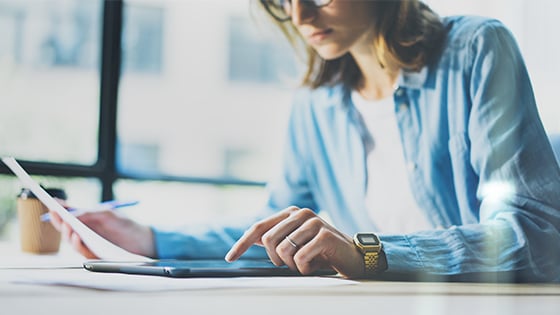 Wondering how to write an enticing job description to attract top talent? The WunderLand Group team reviews hundreds of them (with both employers and talent) on a weekly basis, so we know what it takes to craft a great one!
If you are an employer looking to hire talent, here are the important factors you need to include:
secure the interest of a quality candidate for open roles;
be a resource for them in considering your company;
distinguish non-negotiable requirements versus nice to have assets.
But what exactly is an effective job description? How do you ensure the time you spend formulating the duties and qualifications of a specific job produce the desired result – receiving more applications from qualified candidates?
The answer is to put yourself in the position of a job seeker. What are they looking for? Here is what to include to address the job seeker's concerns:
introduce the company and corporate culture;
introduce and explain the specific role you are considering and what value it provides to the organization;
be transparent when outlining growth opportunities, job requirements, and processes.
This is not an all-inclusive list of variables for a great job description. However, these details and considerations, when done correctly, can maximize your ROI. Here are three key points to focus on to appeal to the current talent market:
Include the WIIFM: What's In It For Me?

To do this, create a roadmap of what skills and competencies the candidates will bring to the table. Expand on how they will grow and develop these and other skills over time in the given role. Be as detailed as possible! What will a candidate be doing and learning one month into the role? Three months? One year?

Understand that growth, partnerships, and culture are essential parts of the modern workplace. Focus on defining and marketing your corporate culture.

Be detailed and illustrative and include information that makes you stand out! Here are a few examples:

Communications and team structures: Do you have cross-functional teams? If yes, how will a specific role be involved in these teams? If you have bi-weekly all staffs, explain how the open role contributes and participates. How does it look and feel to work as part of the larger organization?
Benefits: What benefits make you stand out? On-site child care? Student loan repayment assistance? Continuing education, professional certification, or other education-related funds? Candidates want to know your value-added differentiators, but make sure your differentiators matter to today's marketplace.

Be clear on the skills that are absolutely necessary, as well as the skills that would be great but are not going to be a deal breakers.

This can make or break your talent search process, and is the area that most frequently causes necessary delays. It is critical to establish a baseline to help weed out candidates who will not be successful. For example:

If you are looking for a technical or software engineering manager, state the technical stack they will be required to use. If your organization uses a variety of programs, languages, and platforms, articulate the most commonly used ones to help a candidate assess their fit.
If you are looking for a project or program manager, be clear on your organization's delivery method (Agile? Waterfall? Another?). If you are open to a variety of methodologies, say so.
Once you have clearly established the line between necessary requirements and skills and your "nice-to-have" skills, be sure your talent search partners are equally clear on the delineation. Do not be afraid to revisit this conversation throughout the search process to fine tune the search results.
Essentially, job descriptions are branding tools to help your organization market itself to the best of the best. It's critical to ensure the substance and structure of the job description match the quality of candidate you are seeking and are speaking to the audience in the clearest and most alluring way possible.
Not receiving the candidate submissions you need for your open roles? There may be room for improvement with your job descriptions. REACH OUT TO US to learn more about how we can help.