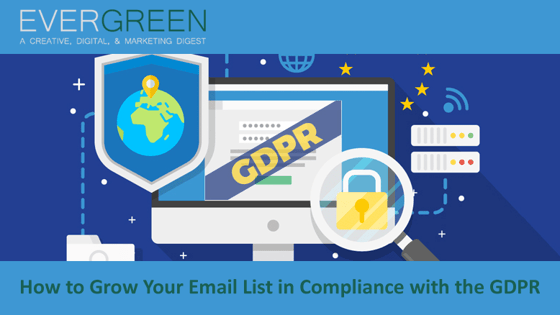 Welcome to EVERGREEN on The WunderBlog, our bimonthly creative industry update. We collected our favorite articles from the WunderBlog and around the web to help you stay up to date on the latest creative, digital, and marketing trends. Enjoy this week's issue: How to Grow Your Email List in Compliance with the GDPR.
Not subscribed to receive our EVERGREEN digest? Click here to have EVERGREEN delivered directly to your inbox.
How to Grow Your Email List in Compliance with the GDPR
The new European regulation on the processing and handling of personal data, known as the General Data Protection Regulation (or GDPR), enters into effect on May 25, 2018. That means marketers have just a few short weeks left to prepare for all of the new restrictions brought on by this law. One of the biggest changes enacted by the new law is the concept of consent.
Get the Good Life. Get a Career Mentor.
Mentors have insight capable of shaving years off your learning curve and they can help avoid painful mistakes along the way. Mentors have the power to truly transform our lives in helping us achieve our highest human excellence—the good life.
Can Augmented Reality Breathe New Life Into Banner Ads?
The very first banner ad on the Internet—for AT&T on Wired in 1994—had a click-through rate of 44 percent. Now that the novelty has worn off, that rate is more like 0.05 percent. Add augmented reality, however, and it may be a different story.
What's the Right Talent Mix For Your Marketing Team?
Leaders who create successful marketing teams think differently about their blend of talent resources. They put a premium on being agile and lean. They creatively combine resources from employees, agencies, consultants, and freelancers to create the best mix of talent for their team to be successful. So, how do you creatively combine talent resources to find the right talent mix for your team?
Why Content Marketing and Marketing Automation Go Hand in Hand
The goals of the modern marketer are timeless: create new opportunities to grow sales while keeping your existing customers happy and coming back for more. When you provide information that is relevant, reliable, insightful, and actionable, you harness a proven, powerful method for reaching your customers, not to mention marketing goals. But trying to do it all manually is a daunting task that can easily keep you up at night.
Click here to subscribe to EVERGREEN!
Looking for top talent? CLICK HERE to subscribe to Talent on the Move.