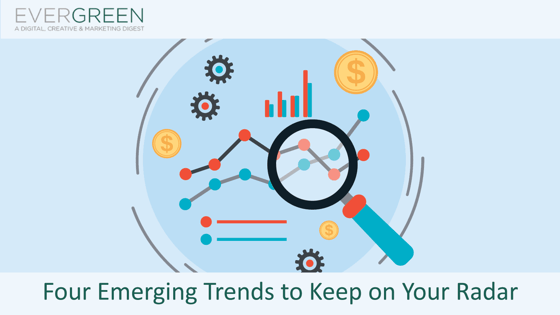 Welcome to EVERGREEN on The WunderBlog, our bimonthly creative industry update. We collected our favorite articles from the WunderBlog and around the web to help you stay up to date on the latest creative, digital, and marketing trends. Enjoy this week's issue: Four Emerging Trends to Keep on Your Radar.
Not subscribed to receive our EVERGREEN digest? Click here to have EVERGREEN delivered directly to your inbox.
Four Emerging Trends to Keep on Your Radar
The way consumers digest advertising is always on the rise and can change in an instant. It is no longer enough to stay up to date on the latest trends; it's time to look forward to what's next.
Three Ways to Land a Creative Gig in Advertising
Here are three successful repeatable strategies that anyone can use to get into the creative side of the advertising business.
Why Mass Emails and Email Blasts are Things of the Past
If you find you're stuck in the past sending out mass emails, a generic newsletter, or have heard little of data-driven email marketing, this post is for you.
How To Be A More Creative and Effective Leader
Asking questions is one of the best ways to cultivate a curious mindset. Here are three ways you can use questions to be a more creative—and more effective—leader.
Use Your LinkedIn to Get Noticed and Hired
Do you know what information best catches a recruiter's eye? Learn what recruiters are looking for before reaching out for that important first interview.
Click here to subscribe to EVERGREEN!