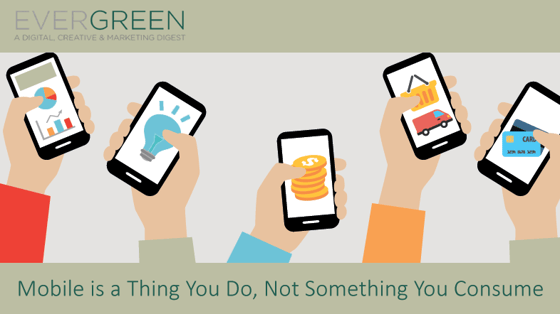 Welcome to EVERGREEN on The WunderBlog, our bimonthly creative industry update. We collected our favorite articles from the WunderBlog and around the web to help you stay up to date on the latest creative, digital, and marketing trends. Enjoy this week's issue: Mobile is a Thing You Do, Not Something You Consume
Not subscribed to receive our EVERGREEN digest? Click here to have EVERGREEN delivered directly to your inbox.
Mobile is a Thing You Do, Not Something You Consume
For all its warts and glitches, no device has been more essential to our digital (and physical) lives than the mobile device. Industry stalwarts got together and gave insight in how to better engage with consumers via mobile.
Your Parachute Plan
No matter if you are happy in your current role, faced with unemployment, or foresee organizational restructures looming, the New Year is a great time to define your your path for what's next…your parachute plan.
Managing the Changing Workforce
We no longer live in an industrial age, we live in a digital one. Technology, a more diverse workforce, and a generally more uncertain working environment demands more collaboration and flexibility.
12 Marketing Trends to Take Advantage of This Year
The world of marketing is constantly changing, especially in the modern era of social media, automated ad tech and audience analytics. Brands need to stay on top of these changes to successfully reach their audiences, especially as consumers become savvier and more skeptical of advertising.
Social Media Manager: What the Job is Really About
If you work in Social Media and have ever tried to answer the "so, what exactly do you do?" question, you probably know what I'm talking about. Attempting to describe the role of a social media manager to someone who isn't involved in marketing, let alone digital marketing, can be somewhat of a challenge.
Click here to subscribe to EVERGREEN!