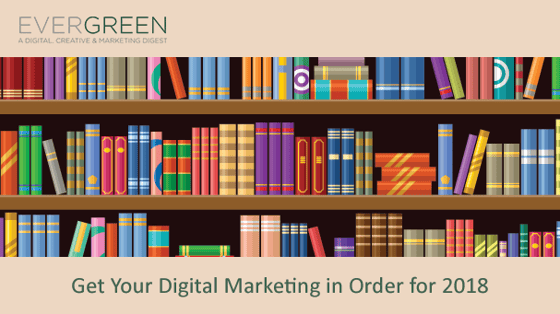 Welcome to EVERGREEN on The WunderBlog, our bimonthly creative industry update. We collected our favorite articles from the WunderBlog and around the web to help you stay up to date on the latest creative, digital, and marketing trends. Enjoy this week's issue: Get Your Digital Marketing in Order for 2018.
Not subscribed to receive our EVERGREEN digest? Click here to have EVERGREEN delivered directly to your inbox.
Get Your Digital Marketing in Order for 2018
As we barrel towards 2018, you and your team are likely in the thick of goal setting and planning how to expand your brand awareness in the new year. To get your team primed for 2018 strategic planning, here are a few good reads...
Be a Low-Stress Freelancer
Little did I realize, when I became a fulltime freelance writer, how wrong my preconceived notions of the freelance lifestyle would be. Not to say I don't love it (because I do), but it is very easy to let freelancing stress you out beyond belief.
Designing with AI
AI helps make Facebook smarter and easier to use. We use it to help translate text so people can understand each other better, to recognize what's in images so visually impaired people can "see" photos, and to filter out undesirable content like spam.
The Secret to Remote Work? It's Not All About You
When remote work gets mentioned, it can conjure up all kinds of notions. People working in their pajamas. Workers slacking off. A disconnected, maybe even dysfunctional team culture. Some people still have this idea that you need to be sitting in an office from 9-5 to get things done.
Selecting the Right Freelance Designer for Your Project
Is your company's design not connecting? Getting nowhere, even with a rusty copy of Photoshop and a bunch of stock photography? You need a real designer…and fast! Here are some things to keep in mind when you're trying to find the right designer for your project.
Click here to subscribe to EVERGREEN!