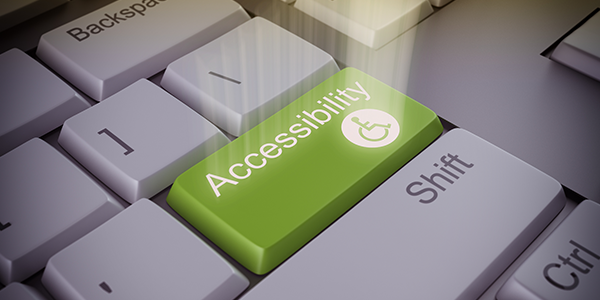 Life as we know it was launched into the digital realm in early 2020. Almost immediately, we learned how to navigate telehealth appointments, swapped in-store shopping for eCommerce, and shifted our team meetings from conference rooms to living rooms, sitting alone with our laptops attending endless video meetings.

Many companies shifted their plans and initiatives to a digital-first approach. As customer experience became the catch phrase of every digital and marketing team, it got WunderLand thinking...

What about the communities that can't interact with the digital world easily?
How does a person with little or no vision or eye sight steer their way to a telehealth appointment?
How will my friend who is hard of hearing experience their team's Zoom meeting or their now-virtual work conference?


With our company's strong passion for diversity, equity and inclusion, we were inspired to get more involved in digital accessibility and find a way to better support those communities. And it wasn't just professional, this mission was personal. Our very own Dan Weldon shared his experience:
"The COVID-19 pandemic's amplification of these challenges reminded me of my late father, who passed in November of 2019 after a 17-year battle with Parkinson's Disease. In the later years of his journey, he had increasing trouble using and interacting with the digital world and the technologies many of us use with ease every day. Even much earlier in his fight against this horrific disease, it was apparent that he had challenges completing relatively simple digital tasks as his fine motor skills and his cognition began to deteriorate. Because of this, I began seeking more information about assistive technologies (e.g. speech-to-text tools) that could help him as the technological world around him accelerated at an incredible pace. It was hard for him to stay in contact with his family members, let alone stay current and relevant in his occupation as a financial planner and life insurance salesman. What I uncovered, and what intrigued me to become more involved within the adaptive community, was a vast network of technologies, organizations, and people who were immersed in making the digital playing field as level as it could be, to empower people with physical and cognitive limitations in our digital society."

First things first – What is digital accessibility? It's best defined as the process of making digital products and/or websites accessible to everyone. We've had many conversations surrounding digital transformation or large overhauls of a company's digital consumer experience, yet digital accessibility is rarely mentioned. Often, digital accessibility is an after-thought, and the retroactive initiatives are often expensive and would monopolize any internal team's bandwidth.

Our mission became obvious: Learn as much as we can about digital accessibility and how to best support those initiatives, share our findings with our networks, and encourage conversations surrounding accessibility in every project we discuss with our partners.

In support of (and to draw attention to) National Disability Employment Awareness Month, we'd like to share the steps we're currently taking to leverage our specialties in order to make the digital world a more accessible space:
We host monthly round tables over Zoom to allow space for digital accessibility professionals to grow their networks, discuss advancements and relevant news, and share info about upcoming industry events.
We're working hard to make our WunderLand Group website fully accessible by 2022.
We have made accessibility a staple topic discussed in our DEI meetings.
We're hosting internal and external trainings.

We'll continue to share our findings and experiences here as we dive deeper into digital accessibility. Soon, we also plan to share our platform with some tremendously brilliant subject matter experts, so stay tuned for some great learning opportunities!

Until then, we'll leave you with some excellent sources of digital accessibility information: (Big thanks to the professionals in our monthly round tables for sharing!):

#DEI #A11y #DigitalAccessibility #Accessibility #NDEAM