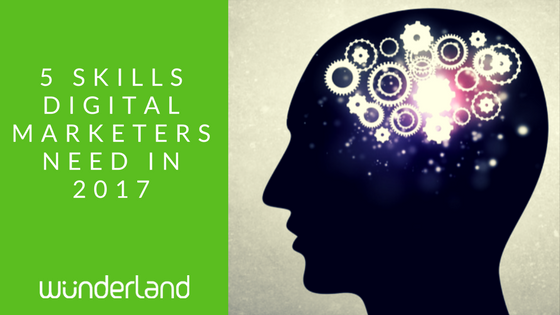 Neil Patel, a leading digital marketing consultant, describes digital marketing as "any form of marketing products or services that involves electronic devices," which theoretically means that digital marketing has been around for decades. Of course, the skills needed to be a successful digital marketer these days are vastly different than those required in past decades. The invention of the internet brought email and blogs, and social media became a way to distribute this new content and to engage with a company's audience.
Digital marketers are a crucial part of the modern marketing team, helping companies bridge the gap between traditional and digital marketing channels. A digital marketer is a jack-of-all-trades, having skills in email, basic design, content marketing, analytics, and social media. Although large teams may have a specialist or two in each of these areas, some teams may rely on one or two people to manage all digital media. To be competitive in the job market in 2017, a digital marketing applicant should have skills in five areas:
Email
As Campaign Monitor reports, for the past ten years, email is the channel generating the most ROI for marketers, generating $38 for every $1 spent. Undoubtedly, companies will be looking for a digital marketer who understands email marketing and who can produce quality, timely pieces. Experience in audience segmentation and email automation will be key in landing a digital marketing role.
Basic HTML/CSS
Basic skills in HTML/CSS will help a digital marketer go a long way in 2017. Knowledge of these skills help a digital marketer design emails and navigate various content management systems. When more sophisticated design work is needed, a digital marketer can use this basic knowledge to "speak" to the design team to communicate a marketing project, making it easier for teams to collaborate more effectively. Online courses from sites like Codecademy offer classes to help beginners learn the basics.
Content Marketing
Content is part of every marketing channel, making content marketing a necessary skill for digital marketers to have in 2017. Having skills in SEO, blogging, designing infographics, writing social posts, and creating videos will increase the chances of a candidate landing a digital marketing job. What will further increase a candidate's chances of landing a job, though, is the ability to understand the audience that will consume each content marketing piece. Creating and distributing the right content will increase audience engagement.
Check out this SlideShare on finding the right Content Marketer for your team.
Analytical Skills
Analytical skills are a must-have for digital marketers in 2017. Marketing decisions, like almost all business decisions, are based on data. Data on audience engagement help digital marketers make decisions from which picture to post on Instagram to what the blog should be about next week. A digital marketing job seeker should be versed in the basics of Google Analytics, each of the top social media platforms' native analytical tools, and third-party tools like SproutSocial or Buffer. Solid skills in analyzing data to measure ROI and make, or help to make, strategic decisions will help an applicant be competitive in the job market.
Social Media
In 2016 the average internet user had seven social media accounts, up from three in 2012. To be a successful digital marketer in 2017, a candidate must be fluent in the top social platforms – Instagram, Twitter, Facebook, LinkedIn, and Pinterest – and how to use them for business purposes to capture the various audiences on social media. This includes writing posts, engaging with the audience, and keeping up with social media trends.
See what being a Social Media Manager is really about!
Every marketing department needs content to engage with its audience, relies on analytics to make decisions, and uses social media and email for B2B or B2C communications. Having experience in each of these areas will help a digital marketing applicant be competitive in the 2017 job market.
Are you a Digital Marketer ready for you next role? Let WunderLand help. Search jobs, sign up for job alerts and/or create a profile here.