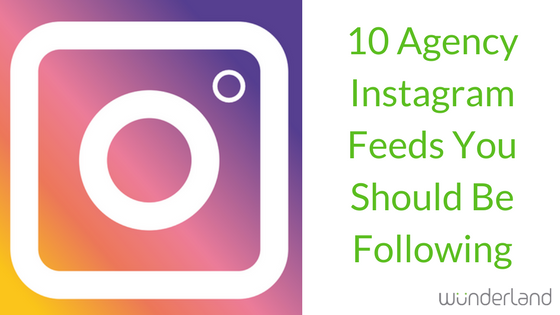 You may have thought that after connecting with an agency's LinkedIn, Facebook, and Twitter account, you were done, but don't neglect to check out a marketing agency's Instagram feed to really get a sense of who they are. Unlike Twitter's tendency for retweets and short blasts, or Facebook's carefully curated content, or even LinkedIn's strict "business only" vibe, Instagram seems to be where companies go to let their hair down. Here are some great agency feeds you should check out.
Brooklyn-based Big Spaceship prides itself on its team integration. (They don't have a creative department! What?!) Their feed has a lot of quirky team shots in and out of the office (with plenty of office dogs), but also fun bits like shots of who won the week's "World's Greatest Person" award and a shot of them with the wacky trophy and a bit about what makes them great.
Berlin-based Buddy Brand has a nice continuity of style between their website and Instagram feed. Minimalist with a sense of whimsy, their snaps often reflect a quiet work environment that seems very German, but also very aspirational in a world of agencies where "how much stuff can we cram in the office to make it seem cool?" seems to be the norm.
Global firm Grey loves to give its employees time behind the wheel of its Intagram feed. They turn it over each week to a different employee, and the shots, while all in black and white, vary depending on what the person is up to. They might be working on a project, exploring the city, or somewhere on vacation. Every day there's a new bit of insight into what makes Grey's employees tick.
Magnetic Creative's Instagram feed is a mix of personal staff shots and ways they integrate client products into creative inspiration. It makes sense that the team blends very tactile influences — a candle, a mug, a digital pen — into their highly technical digital work. When they're not in the office, you get the feeling this gang is outside exploring the California countryside.
With offices in Chicago and NYC, and a staff that has tons of its own personal Instagram followers, there's a lot of pressure on Havas to have a killer feed. They push out goofy internal posts, but also share a lot about their own work, which includes a lot of experiential marketing work.
With over 70,000 followers, Huge's Instagram is, well, big. They don't shy from controversy, from snaps of staff wielding giant axes (which mark staff anniversaries) to political signage. They're a global company with 7 offices just in North America alone. They're feed is blowing up with great user interaction, too. If you're a design geek or just into cool agency vibes, this is one to definitely follow.
A post shared by Huge (@hugeinc) on
Chicago's Skirt PR is loading up their feed with almost a Pinterest-like cohesion. They love to pick photos that tell a story over time, even though their subjects are very disparate. Recent posts all touted a gorgeous (millennial) pink vibe from balloons to handbags to knockout dresses at the MET gala. You can really tell where the team is getting their client work inspiration from with this feed.
A post shared by Skirt PR (@skirtpr) on
It's not too surprising that sustainability-focused agency Futerra posts a lot on its feed about ways that their team is working to make the world a better place — a key goal of the global agency itself. They have shots of speakers they've seen, ways the team is participating in global events (like International Womens Day), and even a little political action.
Cheeky firm in Paris, With Barry, has a feed with lots of stylized pics of everything beautiful about France, including food, architecture, and views galore. If you want a taste of the good life, follow their feed.
Design, design, design. That's what you'll see when you follow creative agency hzdg. With offices in DC, Baltimore, New York, and LA, there's a real cross-cut of what's the latest trends with creative illustration, digital, print, and more.
What's your agency up to on Instagram these days?
Don't forget to follow WunderLand and get a glimpse into our world!