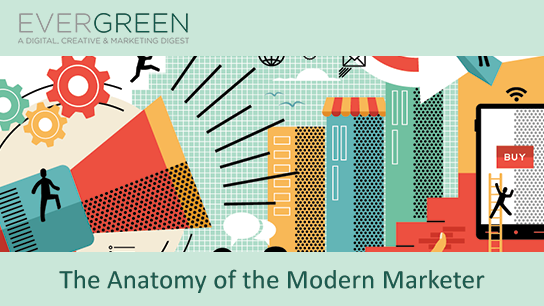 Welcome to EVERGREEN on The WunderBlog, our bimonthly creative industry update. We collected our favorite articles from the WunderBlog and around the web to help you stay up to date on the latest creative, digital, and marketing trends. Enjoy this week's issue: The Anatomy of the Modern Marketer.
Not subscribed to receive our EVERGREEN digest? Click here to have EVERGREEN delivered directly to your inbox.
The Anatomy of the Modern Marketer
Today's buyer has all the power, and any marketer who wants to redress the balance needs to adopt a new way of thinking. But no marketer is an island. And no single skill set will do.
Get Your Foot In the Door Without the "Right" Experience
Whether you're just starting out or looking to change up your career path, finding ways to talk about your experience, when it may not be directly relevant to your job, is key to getting your foot in the door.
Boost Your Marketing With Super Bowl Storytelling
That television audience is hugely important to advertisers and marketers, with brands investing significantly both financially and creatively to capture our hearts, minds and wallets.
Here Are the Top Marketing Design Trends for 2018
This year, there's a common, underlying science-fiction-esque theme -- at least when it comes to the top three trends, named to be "fantasy," "new minimalism," and "space."
How Do Employment Agencies Work? Can They Get Me a Job?
Wouldn't it be great if the ideal job could somehow find you? Employment agencies (also called staffing firms, staffing agencies, recruiters, headhunters) make that happen every day. Companies pay our recruiters to find the best possible people for the jobs they need filled. If one of those jobs is in your wheelhouse, we do everything we can to help you get it.
Click here to subscribe to EVERGREEN!