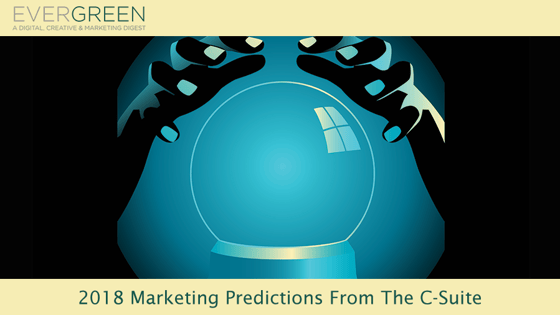 Welcome to EVERGREEN on The WunderBlog, our bimonthly creative industry update. We collected our favorite articles from the WunderBlog and around the web to help you stay up to date on the latest creative, digital, and marketing trends. Enjoy this week's issue: Why is Digital Marketing the Next Big Career Opportunity?
Not subscribed to receive our EVERGREEN digest? Click here to have EVERGREEN delivered directly to your inbox.
2018 Marketing Predictions From The C-Suite
CEOs, CMOs, authors, executive recruiters and other experts from a variety of industries and backgrounds were asked to weigh in on what will be hot for marketers in the upcoming year. From cybersecurity to AI to social media to impact in the boardroom, this year's predictions do not disappoint.
Building a Customer-Centric Marketing Team [Infographic]
Effective marketing leaders of today are no longer aligning their department activities with business objectives, they're charged with developing and driving the strategies to lead business growth.
Elon Musk Is Right, Artificial Intelligence is Growing Like Crazy
While AI isn't self-evolving to the point of being an imminent danger, it did grow like crazy in 2017. That's the topic several CEOs mentioned when asked about the biggest trends in tech this year.
Stop Obsessing: Here Are 7 Areas Where Perfectionism Hinders Good Writing [Infographic]
Not long after I began working at HubSpot, my manager introduced me to a term that was new to me: analysis paralysis. How had I never heard of this concept before? I was certainly familiar with what it described: the paralyzing nature of habitually over-analyzing one's work in an unrealistic quest for it to be perfect. Breaking news: No one's work is perfect. Okay, maybe Beyoncé's is. But mine certainly isn't.
When and How to Ask for a Raise
There are few things more nerve-wracking than considering asking for more money in your current position. Your odds for success increase dramatically when you fully prepare both your justification and timing. Here are some tips on how to go about doing just that:
Click here to subscribe to EVERGREEN!