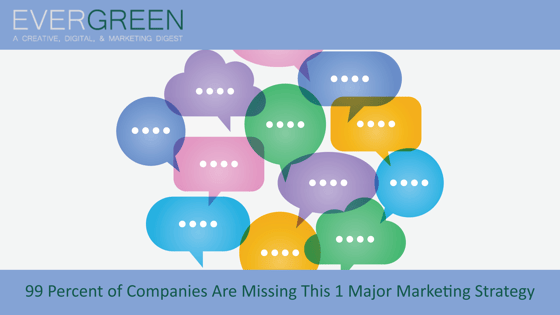 Welcome to EVERGREEN on The WunderBlog, our bimonthly creative industry update. We collected our favorite articles from the WunderBlog and around the web to help you stay up to date on the latest creative, digital, and marketing trends. Enjoy this week's issue: 99 Percent of Companies Are Missing This 1 Major Marketing Strategy.
Not subscribed to receive our EVERGREEN digest? Click here to have EVERGREEN delivered directly to your inbox.
99 Percent of Companies Are Missing This 1 Major Marketing Strategy
Implementing a simple strategy for this area can extend your promotional reach exponentially.
Be 35% Better
You got the job. Along with that job came a whopping 35% raise. That job is paying you 35% more than you were making in your current job. Let that sink in for a moment and then think about how you can be 35% better as a person when you walk through those new doors.
7 Ideas for Content that Work for Both Sales and Marketing
How to generate seemingly endless amounts of content based on what prospects and customers are asking about the company.
How to Build a Marketing Team From Scratch
Managing a marketing team is one thing but creating one from the ground up in line with rapid business growth requires additional focus.
The Trick to Ace Employee Retention
Companies that excel at retaining talent aren't just making employees happy at work (though that helps a bit); they're also providing an environment that inspires them to stay.
Click here to subscribe to EVERGREEN!