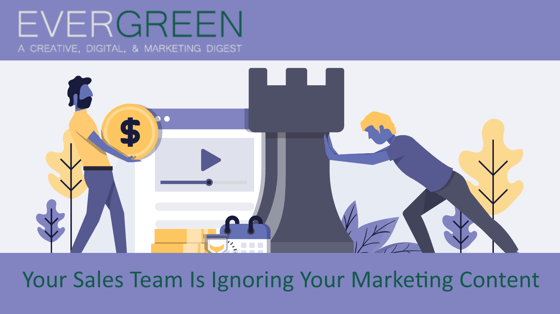 Welcome to EVERGREEN on The WunderBlog, our bimonthly creative industry update. We collected our favorite articles from the WunderBlog and around the web to help you stay up to date on the latest creative, digital, and marketing trends. Enjoy this week's issue: Your Sales Team Is Ignoring Your Marketing Content.
Not subscribed to receive our EVERGREEN digest? Click here to have EVERGREEN delivered directly to your inbox.
Your Sales Team Is Ignoring Your Marketing Content
Sales reps are unhappy with the content: 90% of it goes unused. Instead, they take matters into their own hands and produce materials that are inconsistent at best, inaccurate at worst. Perhaps the most sobering news for brand managers from HubSpot was that 40% of enterprise content is now developed by sales.
Retaining Your Team
People are a company's greatest resource ... not the product a business creates, the membership it drives, or the apps it produces. The people who keep the machine running are the most critical asset of an organization. People are your company's walking reputation.
Selling Marketing Automation to Executives
C-level decision makers have the power to influence senior managers; they're also responsible for making sure that businesses meet modern demands. Sourcing new technologies and strategies to help elevate organisations and bring in revenue is a big part of their job, which is why marketing automation - the guaranteed way of driving companies forward – sounds extremely appealing.
Why 7 Scientifically Proven Ways to Get More Clicks on Your Content
ATTENTION. As marketers, before we can create interest and compel action, we must get our audience's attention.
How to Get Your Foot in The Door Without The "Right" Experience
Whether you're just starting out or looking to change up your career path, finding ways to talk about your experience, when it may not be directly relevant to your job, is key to getting your foot in the door.
Click here to subscribe to EVERGREEN!