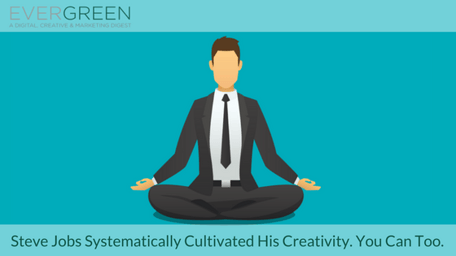 Welcome to EVERGREEN on The WunderBlog, our bimonthly creative industry update. We collected our favorite articles from the WunderBlog and around the web to help you stay up to date on the latest digital, creative, and marketing trends. Enjoy this week's issue: Steve Jobs Systematically Cultivated His Creativity. You Can Too.
Not subscribed to receive our EVERGREEN digest? Click here to have EVERGREEN delivered directly to your inbox.
Steve Jobs Systematically Cultivated His Creativity. You Can Too.
Creativity is essential for entrepreneurs to guard against disruption and maintain relevance. Here are three methods that Jobs used to enhance his creativity that you can immediately implement to increase your problem solving abilities and innovative thinking.
Hiring Process Check Up [Infographic]
People are the building blocks of a successful company. A thriving organization and a healthy bottom line require a team aligned to delivering for your clients. No matter what field you're in, getting the right talent in place is essential. But is the process you use to do that helping or hurting your efforts?
What to say when a job interviewer asks, 'What's your current salary?'
It's a common — and uncomfortable — job interview scenario. In some places, it's no longer legal to ask about an applicant's previous compensation. But while the issue is still being debated, you'll want to be prepared with an answer.
A Tesla Customer Complained on Twitter. Less Than 30 Minutes Later, Elon Musk Promised to Fix It
Attention, all business leaders: This is how to use social media.
Top Hiring Mistakes and How to Avoid Them
David interviewed very well. He seemed to have the right skills; he was outgoing, approachable, and showed a definite drive to succeed. Yet, three months later he was failing. Where did you go wrong?
Click here to subscribe to EVERGREEN!