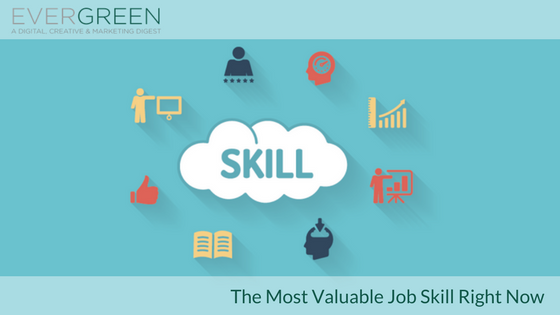 Welcome to EVERGREEN on The WunderBlog, our bimonthly creative industry update. We collected our favorite articles from the WunderBlog and around the web to help you stay up to date on the latest digital, creative, and marketing trends. Enjoy this week's issue: 5 Ways to Up Your Content Marketing Game.
Not subscribed to receive our EVERGREEN digest? Click here to have EVERGREEN delivered directly to your inbox.
The Most Valuable Job Skill Right Now
14 CEOs reveal the skill they're most excited to see in an employee these days. Take note: Some of these will help you stand out at your current gig; others will give you an edge when you go to look for your next one.
What Does a UX Designer Do? The Mysteries of User Experience Design Revealed.
Depending on the size of your creative team, you may or may not have ever worked with a dedicated UX designer. So when it comes time to fit one into your workflow, or even to hire one for the first time, you may be a little stumped as to what to look for in their history, qualifications, and even the best way to incorporate one into your team. Here's a little breakdown to help you out.
Need a Breakthrough Innovation? Start with a Really, Really Bad Idea
The good news is that you can stimulate colleagues to come up with some truly great ideas. But the technique you need to use will sound counterintuitive: You need to start by generating the worst ideas your team members can possibly imagine.
9 Ways to Reignite Your Creative Career
Career burnout can happen in any industry and in any role, but I think those of us in creative careers can be a bit more susceptible. Long hours, rejected pitches/ideas, demanding clients, overly edited designs and copy can take their toll on the creative spirit and can send even the thickest-skinned professional spiraling towards burnout. While it may seem hopeless, burnout doesn't have to be permanent and is also quite preventable.
Here are nine ways to help you battle your career ennui and reignite your creative drive.
3 Things to Kill Before They Kill Your Creativity
Death doesn't exactly make for uplifting bumper stickers or catchy memes. Much less does it lend itself to a subject like creativity. Especially if you're looking to write a bestseller.
So, why this morbid fascination?
Because death — killing three things in and about ourselves — lies at the core of long-term creativity and success.
Click here to subscribe to EVERGREEN!