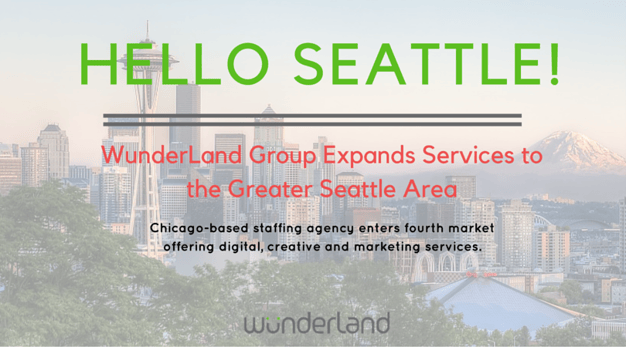 WunderLand Group, a leading staffing agency in the Digital, Creative, and Marketing industries, announced they have expanded their service offerings to include the Greater Seattle area. This is the fourth market for the growing company and their second on the West Coast.
WunderLand Group started in 2009 in Chicago and has expanded to both coasts. They also provide staffing services to clients in the San Francisco Bay Area, Connecticut, New York, New Jersey, Rhode Island, and Boston, with plans to further grow.
"This is a very exciting time for us," said Matt Hopkins, CEO. "WunderLand now has the opportunity to provide digital, creative, and marketing services to our existing clients in the Seattle area. We look forward to expanding our reach on the West Coast and continuing to drive growth nationally."
Earlier this year, WunderLand Group was named to Crain's Chicago Business' Fast Fifty list for 2016 in recognition of their 379.5% increase in revenue over the last five years. The company also earned the Best of Staffing® Client Award and Talent Award for providing remarkable service quality. Fewer than 2% of all staffing agencies in the U.S. and Canada earned the 2016 Best of Staffing® Award for service excellence.
For any digital, creative, and marketing staffing needs in the greater Seattle area, contact 425-985-4164.
About WunderLand Group
WunderLand Group is the destination for digital, marketing, and creative talent. They deliver on their promise to provide companies with in-demand, highly-qualified talent for contract and full-time positions. WunderLand Group invests time to understand their customers business and resource challenges and connects them with exceptional talent in today's fast-paced digital, marketing, and creative landscape. The industry has verified WunderLand Group's reputation for loyalty and quality through numerous awards and recognitions, most recently the Best of Staffing® Client Award and Talent Award. WunderLand Group services clients in Chicago, San Francisco, Seattle, Connecticut, New York, New Jersey, Rhode Island, and Boston. For more information, visit www.wunderlandgroup.com
______________________________________________________________________________


Questions? Comments?
Contact Tara Hurely
Talent Communications & Operations Director
WunderLand Group