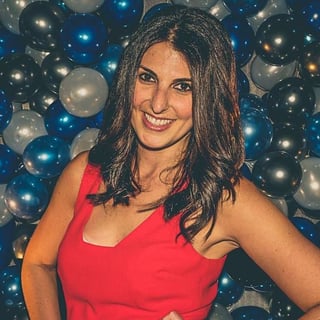 Marisa Vrona, Talent & Client Engagement Manager, Chicago
 LinkedIn  mvrona@wunderlandgroup.com
Marisa joined WunderLand in 2012 after five years in public relations. Her passion for helping others is evident in her approach to staffing and carries over to her work with a local non-profit, Chicago HOPE, where she mentors underprivileged high school students by providing career insight, resume assistance, and life advice. Marisa's dedication to the staffing industry landed her on the Staffing Industry Analysts (SIA) list of Millennials in Staffing.
What's wonderful about working for WunderLand?
I have the opportunity to work with wonderful people each day. Our company has a fun, supportive and positive vibe that our candidates and clients pick up on. We don't take ourselves too seriously and are able to find time to break away from our work to have fun, which includes mini dance-offs and singing to old school tunes at our desks.
Why do you enjoy sales/client service? What drew you to staffing and recruiting?
I started my career in public relations working on multi-million dollar accounts. I enjoyed working hand-in-hand with my clients to solve their problems, but the time came where I wanted to transition into something that directly helped people. My mom is a Recruiter and I grew up with staffing in my blood and repertoire, so it was a natural progression.
What advice do you have for anyone who is looking for a new job?
I was taught at an early age that your network is your net worth. It's truly about who you know, so get out there and make new connections. Attend events, join meet-ups, and ask friends and family for referrals. Reach out to people on LinkedIn who have your dream job and offer to take them out to coffee to learn more about their role and their journey of how they got there. People love talking about themselves… as well as a free cup of coffee!
Why should a candidate want to work with WunderLand?
We treat people like people and provide a continued experience for our candidates. When we place someone in any job (contract, contract-to-hire or full-time) we frequently check in with them to make sure they are happy and feeling successful. WunderLand also offers great unique benefits like 401k match, health benefits, talent parties, and more.
Why should a client want to work with WunderLand?
We listen to our clients' needs and work with them to understand their pain points. We help our clients by sending them only the best of the best candidates instead of sending multiple emails and resumes and wasting their time by having to sift through C-level people.
Life is crazy. What keeps you sane? How do you recharge?
My passions outside of work include Beyoncé, Bravo (Housewives), pop culture and new restaurants in Chicago. I also give back to the community, and do so through Chicago HOPE, a nonprofit organization that provides four-year college scholarships and mentoring to Chicago Public High School seniors with limited financial resources. I am on the Executive Board and am a mentor to a sophomore at St. Louis University who is studying to be a nurse.
If you had no fear & unlimited resources, what would you do with your life?
Move to California and pursue acting. I would also learn all of the dance moves from the Single Ladies music video!
Need a job or need to hire
in the Chicagoland Area?
Get in touch with Marisa today!