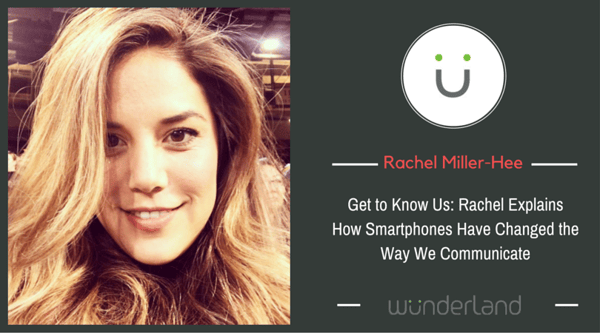 Rachel Miller-Hee, Client Engagement Associate, San Francisco
 LinkedIn  rmiller-hee@wunderlandgroup.com
What's wonderful about working for WunderLand?
I love working at WunderLand because it is such a collaborative environment. Our team composition is one that nurtures and supports not only each other, but the candidates and clients that we work with. My colleagues are invested both in the success of one another and WunderLand as a whole. That feeling translates to our clients and candidates as well.
What do you enjoy about staffing?
While I come from a tech sales background, what I truly enjoy is the quality that I can add to the day-to-day of a client. Working at a recruiting agency gives me an opportunity to make an impact for a company and candidate that is greater than any product could.
What's your take on the current creative, marketing and digital business landscape?
With the proliferation of smartphones everything and everyone is connected. Smartphones have shifted human interaction to a whole different degree. How we consume information has changed as well. Companies are able to better curate an experience for clients and prospective clients and with that consumer expectations have changed as well. Now more than ever, how a business designs and markets itself is critical to their success.
What about the creative, marketing and digital job market?
For digital, marketing and creative the market is HOT. Companies are clamoring to get the best talent in and keep them there. It's a great market to be a part of!
What advice do you have for a client looking to hire?
Keep in mind your MUST HAVES, but be flexible to what a person can offer you. Cultural fit is important to business running smoothly, but diversity in your business is what is going to drive ideas and innovation to that next level. Be open to what a talent has to offer…it may be something that you never expected.
Why should a candidate want to work with WunderLand?
Because we care. We are in the business of referrals and talent-begets-talent. Starting with giving our candidates a great experience is what continues to grow a strong talent pool to offer the curated experience what a client is looking for. If I can offer you a great fit, maybe even a better fit than you expected, why not work with WunderLand?
Life is crazy. What keeps you sane? How do you recharge?
Anything outdoors keeps me happy. I am grateful to have so many options right in my backyard. On any given weekend you can find me at the beach or in the mountains.
If you had no fear & unlimited resources, what would you do with your life?
Eat and travel.
Lastly, any quotes, mantras or inspiration for our readers?
"What you do today is important because you are exchanging a day in your life for it."
Are you hiring in the San Francisco Bay Area?
Get in touch with Rachel today!