How is the pandemic affecting the employment situation for marketing professionals? What are the current hiring trends in marketing? How has the hiring process changed? And how can employers succeed during this time? We answered all of this and more in a recent panel discussion sponsored by the American Marketing Association Southern Connecticut Chapter on May 14.
Pandemic Impact on Marketing
We started by exploring how COVID-19 is impacting marketing. We're seeing significant shifts in consumer behavior given the amount of time we're all spending at home. Despite a huge increase in demand for delivery services, we see dramatically reduced willingness and/or ability to spend, especially given the unparalleled increase in unemployment.
"Everything is canceled" is the best way to describe how various industries are affected. Conferences, events, business/recreational travel, and brick-and mortar shopping have mostly stopped and industries that are supply-chain reliant (especially those reliant on Asia or Europe) might be experiencing slow-downs. Even as U.S. states begin to "open," businesses must find ways to remain safe for employees and customers.
These dynamics cause shifts for marketers and we've had to adapt our strategies and tactics more than ever. Marketers need to be agile and stay current with shifts and trends while incorporating compassion and empathy into our messaging.
Hiring Trends
Our panel then shared the marketing-related trends we're experiencing first hand. We definitely experienced a rapid drop in the number of consultants we had on engagement, and we've also seen a dramatic drop in the number of positions we're working on, especially for direct hire roles. The industries impacted most are hospitality/travel, retail, and restaurants/recreation.
Despite the slowdown in hiring, we do see several "hot" industries that are still in need of marketing talent. These industries include pharmaceutical, health & well-being, technology, liquor/spirits, and food packaging companies/CPG. Demand for mar-tech professionals remains high and we still see demand for positions like UX/UI, front-end dev, marketing automation, and content. Opportunities are available, to the extent that a marketing professional can pivot on their desired industry or role.
How Can Job Seekers Succeed in This Market?
Marketing job seekers are seeing more competition for open roles, but there are still quite a few companies who are hiring. Job seekers can stand apart from their competition in three main ways:
Be prepared for interviews. Invest time in your research and your interview questions.
Cultivate your personal brand. Optimize your LinkedIn profile. Update your portfolio. Get some of your work online. Make sure your best foot is forward.
Leverage your network. Build your connections on LinkedIn and like/comment on interesting posts. Join groups that are relevant to your space. The #1 way to find a new role is to become someone's internal referral.
The interview process is now virtual, so job seekers need to prepare to ensure the best possible video/phone experience. Once you're hired, your orientation will also probably be virtual until companies get back to the office. You might also experience delays in the overall process; companies are dealing with many different impacts from the pandemic and we're the hiring and on-boarding process is often moving more slowly than usual.
Contract Roles Will Rebound First
We might be uncertain about a lot of things in this world right now, but one thing we know is that contract opportunities always increase coming out of a recession. The chart below from the American Staffing Association illustrates this point. You can see that average weekly temporary and contract staffing increases dramatically after we've hit the bottom of a recession. Companies need to increase staff but post-recession instability makes them hesitant to invest in full time hires. They then turn to flexible, temporary, or contract employment to build their workforce as demand for products and services rebounds.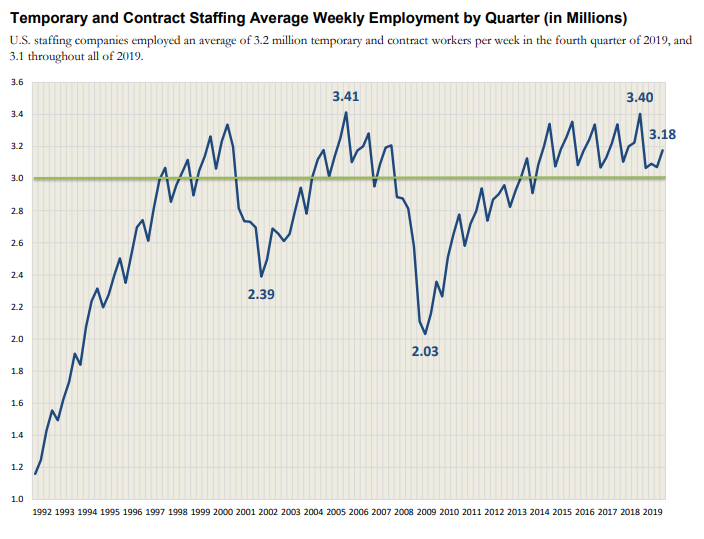 The implication for talented job seekers is clear: be open to pursuing contract/temporary employment opportunities. Temporary opportunities not only keep you working; you have the chance to build your skills, build your network, and you can experience different organizations. You can also make an impression and earn the fast-track towards full-time opportunity, given that many organizations utilize temporary engagements as a means for hiring.
How Can Employers Succeed?
Perhaps you're on the other side of the fence, wondering how you're going to achieve your ever-changing marketing goals with reduced budgets and staff.
We believe a positive dynamic is evolving regarding remote workers. Companies that were biased against remote work pre-pandemic have now seen that remote work is a viable solution for their businesses. This new view on remote work can and should open new geographic pools of talent for companies who previously limited their recruiting based on geography.
Another dynamic many employers are experiencing is an increase in applications for their open positions. "There are tons of candidates now so hiring should be easy" is the paradigm we often hear from employers. The reality is it takes employers longer to wade through the flood of resumes they're receiving to find the "needle in the haystack" when it comes to the best candidates. Organizations can save time and improve hiring quality through a strategic partnership with a staffing firm who screens and vets out candidates to ensure the best hires.
Finally, as we've already discussed, companies will leverage temporary employees and contractors until business stabilizes. Temporary/contract/freelance talent gives companies flexibility while they experience talent "on the job" as a potential means for hiring.
In Closing
Thank you to our engaged audience last week (you can view the recording from our session here). We hope these insights are valuable as we all navigate today's world, especially those of us who are seeking employment or seeking talent.
Ready to move your career forward? Join WunderLand's Talent Community here or view our current job openings here. Employers – we'd love to talk with you whether you're holding steady on hiring for the moment, or you're seeking talent for your team. Contact us today.